FSMA rule for "Mitigation Strategies to Protect Food against Intentional adulteration" (or FSMA Intentional Adulteration rule) is aimed at protecting the U.S. food supply against acts intended to cause wide-scale harm to public health. The rule is a major breakthrough, since it takes food defense to a practical level, into the processes of a food facility. The notion of food defense has been around for many years, but it is safe to say that FSMA gave food defense a new momentum by incorporating it into a regulatory framework, hence facilitating its integration into the food system.
To understand intentional adulteration, it would be essential to cover the basics. PAS 96 and other schemes have taught us those basics, and FSMA created an environment for food defense notions to grow and evolve. Growth and evolution require a sustainable environment, a robust food defense system.
It is critical to consider threats and vulnerabilities in dealing with food defense at the planning stage. FSMA Intentional Adulteration rule makes reference mainly to vulnerabilities as a start. However, it is up to the facility to decide how far it would be willing to go to safeguard its food supply chain.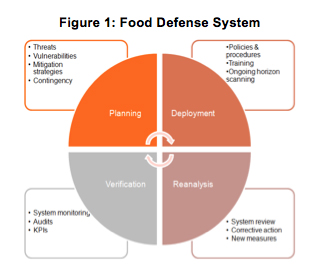 After all, the scope of food defense is not confined within the boundaries of the facility.  An "inside-out" vulnerability assessment may prove to be effective, but a complementary outside-in analysis would render food defense more comprehensive, thus expanding its scope into critical areas within the supply chain.
Therefore, the Threat Assessment and Critical Control Point (TACCP) methodology of PAS 96 combined with the vulnerability assessment and food defense management requirements of FSMA Intentional Adulteration rule would be a winning combination in addressing FSMA compliance and mitigating intentional adulteration risks across the entire food supply chain.
With more than 130 years experience in Agriculture and Food businesses, we understand the challenges that you face. Protect your brand, build customer trust and open the door to a more profitable business with food industry solutions from SGS.
From training and inspection, audit and certification, testing and advisory services to retail store checks and mystery shopping our global team of industry experts help you guarantee that your operations meet the highest global standards.
Quality, safety and efficiency are key drivers in the food value chain. Each of these elements impacts on the sustainability of your business, the desirability of your products and the marketability of your business.
Hank Karayan, SGS North America, Inc. Global FSMA Program Director