Bird droppings and nesting materials, if allowed to accumulate over time, can cause severe damage to building facades, ledges, loading docks, walkways, roofs and more. Building materials such as stone, wood and metal can be damaged due to the acidity of the bird droppings. And in extreme cases, a buildup of bird droppings can impact the structural integrity of a structure. Also, roof drains can become clogged, and fire hazards from packed nesting materials around electrical fixtures can develop. Not to mention all the possible diseases that can result from disturbing bird droppings! Rather than waiting until these bird problems develop and result in potentially expensive remediation, in most cases, it will be cheaper to consider bird prevention design elements beforehand—specifically, in the design-build stage (ideally) or the retrofit stage (alternatively).
Before we can review the building design elements, it is best to review the types of areas that birds prefer to land, roost and nest. This way, when considering a design element, considering the kinds of spaces they prefer to set up camp will make more sense.
90-Degree Ledges

Building ledges
Decorative elements
Truck bay bumpers

Knee Walls (parapet ledges)

Typical construction around most commercial buildings
Roof structure types
Flat based surface areas

Covered Overhangs

Loading docks
Building canopies
Interior building structures

Roofing Equipment

Under HVAC units
Ductwork
Roof equipment

Water Sources

Retention ponds
Decorative fountains
Any water source (natural or otherwise)

Food Sources

Fruit trees
Trash removal
Container practices
Proximity to building

Light Fixtures and Electrical Items

These items provide warmth
These items provide elevated areas to survey area and avoid predators
In the design-build phase of the project, when we work with architects, we always recommend decreasing the number of 90-degree ledges or reducing the ledge depth surface area as much as possible. In those areas that we are not able to reduce or eliminate the ledge, we would recommend a landing-based deterrent product such as a bird spike, bird wire, ledge exclusion system or electrified shock-based bird control product. Each of these types of bird deterrent items has different pros and cons.
Bird Spikes
Bird spikes are a type of bird deterrent/and anti-roosting device that will make it hard for a bird to land on a leading ledge and close its wings as it walks onto the ledge surface. When a bird's landing process is made more difficult, combined with a reduction of the surface landing area, the birds will be deterred from the leading ledge area. Most types of bird spikes have thin metal/plastic rods that are attached to a solid base that point in an upward direction. Bird spikes come in various widths depending upon the surface ledge width area. Bird spikes can be mounted to just about any ledge/surface. Bird spikes can be installed on numerous types of building ledge types and sizes. Bird spikes can be an effective deterrent on gutters, signs, rooflines, cameras, pipes, parapet/knee walls, and related building surfaces.
A con of using bird spikes is that bird spikes are primarily designed to deter larger birds like pigeons. Smaller birds such as sparrows or starlings will not be deterred with bird spikes. A smaller bird can move within and around the rods to use the rods to hold nesting materials within the strands of rods to hold their nesting materials within the bird spike to create a nest. Another con is that larger quantities of bird spikes are unappealing to the building aesthetics.
Bird wire
A bird wire system is a combination of stainless-steel posts that are either epoxied or tapped and drilled into the surface area (typically mortar lines/joints). After the stainless-steel post is mounted, a thin monofilament stainless steel wire is secured between the posts with a micro-spring. The wire is tensioned between the two posts. As pigeons or larger birds attempt to land on treated areas, they will not be able to close their wings and thus will be deterred from landing on treated areas.
A con of using bird wire is that it is typically only effective against larger birds.
Ledge Exclusion
The goal is to turn a 90-degree angle into a 45-degree angle. When you have a ledge that has a base landing area and a return wall area, this allows birds a great shelter area and an ability to survey surroundings. By creating a 45-degree angle, you take a bird's ability to land and get a foothold and land on the surface. The product is effective for larger birds such as pigeons and smaller birds, too.
The only real con of the changing the ledge structure is matching the building finish. However, this is the best bird exclusion method that is effective against all bird species.
Shock Track
Shock track is a low-profile shock track system with a minimalist low profile, and virtually invisible solution to deter and prevent birds from landing, roosting or nesting on building ledge-based surfaces. The shock track system will deliver a mild/startling electric shock when the bird contacts the strip. Shock track systems are a great option when building/structural aesthetics are a key factor for the facility.
For larger areas such as loading docks, canopies, and related covered structures, netting is the main bird exclusion method.
A few cons for a shock system are that at times, you may have some arcing with heavy snow or water collection when connection area of the strips make contact, and this system is typically only effective against larger birds.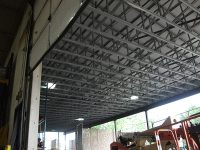 Bird Netting
Bird netting is an exclusion method of bird control. It is intended to be installed on buildings, loading docks, warehouses, airport hangers, transportation facilities, barns, food silos, over building exteriors, balconies, parking garages, rooftops, HVAC units, bridges, agricultural crop applications, ponds, and any other surface that netting hardware can be installed. Bird netting is the best method for excluding all pest bird types. Specifically, seagulls, pigeons, sparrows, starlings, and crows can all be excluded from bird netting.
Bird exclusion netting will prevent birds from gaining entry above any areas that are netted off. It excludes pest birds from roosting and nesting. There are various types of netting and mesh sizes. When selecting the type of netting and mesh size, it is critical to both the target pest bird and where the netting is being installed.
By far, bird netting the best bird exclusion method to control all bird species. The only con of bird netting is that depending upon the application, and the cost can be expensive.
In conclusion, when considering the design-build phase or a retrofit project, the aforesaid areas that are attractive to birds to land, roost and nest should be considered. In most cases, birds can be prevented with a bit of planning.
Remember to also consider surrounding areas (proximity of birds), acceptable pest bird threshold levels, reducing all food and water sources, and closing off all possible entry points. The goal is to not only prevent the birds from setting up shop on the building, but we want to try to keep them an acceptable distance away, too.