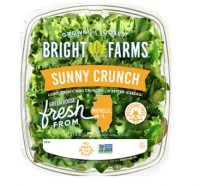 The FDA, CDC, and state and local agencies are investigating a multistate outbreak of Salmonella Typhimurium infections that have been linked to BrightFarms packaged salad greens. Last week BrightFarms recalled packaged salad greens produced in its Rochelle, IL greenhouse farm over concern of Salmonella contamination. The products, which have "best by" dates through 7/29/2021, were sold in Illinois, Wisconsin, Iowa and Indiana.
Thus far 9 illnesses and one hospitalization have been linked to the Salmonella outbreak.
The FDA is advising that consumers, restaurants, retailers and distributors throw away any of the affected products, and clean and sanitize any surfaces that may have come into contact with the product.
Food safety experts will discuss challenges and tangible best practices in Salmonella detection, mitigation and control, along with critical issues that the food industry faces with regards to the pathogen. This includes the journey and progress of petition to USDA on reforming and modernizing poultry inspections to reduce the incidence of Salmonella and Campylobacter; Salmonella detection, mitigation and control; and a case study on the pathogen involving crisis management.