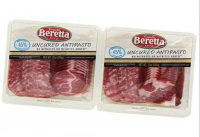 New Jersey-based Fratelli Beretta USA has recalled about 862,000 pounds of uncured antipasto products over concern of contamination with Salmonella Infantis and/or Salmonella Typhimurium. Sold nationwide, the Fratelli Beretta prepackaged Uncured Antipasto trays have a best by date of August 27, 2021 through February 11, 2022 and UPC code 073541305316. Thus far, 36 illnesses and 12 hospitalizations have been reported in connection with this outbreak, spanning 17 states. No deaths have been reported.
The Class I recall does not include Italian-style meats sliced at a deli.
The CDC continues its investigation into determining whether more products are linked to the outbreak.