While COVID-19 exposed disconnects in the food supply chain, it also served as an overdue catalyst for rapid technology adoption. Food manufacturers, distributors and retailers were forced to grapple with consumer behaviors that—previously expected to occur over five years— changed within about five weeks. Faced with unprecedented demand, channel shifts and rapidly changing consumer purchasing behaviors, forward-looking brands and retailers have started to transform their business models to become highly responsive and agile.
A new approach called "programmatic commerce" may be the key to faster market insights and pivots. Taking cues from past attempts to digitize the supply chain from end-to-end, programmatic commerce uses artificial intelligence (AI) and machine learning (ML) to connect and unify critical business data across food manufacturers, distributors and retailers using common retail portals, BI and CRM tools as well as other data resources and platforms.
With a real-time unified view of channels and activity, programmatic commerce has the potential to create fully automated trade processes to optimize production, inventory management, logistics, promotions and more for both upstream and downstream supply chain activities.
To achieve the potential of programmatic commerce, real-time or near real-time data sources must be easily integrated, unified and displayed. This is in stark contrast to previous attempts to create end-to-end supply chain visibility, which often required custom or manual integrations, had costly and lengthy implementation requirements and necessitated custom reporting.
The programmatic approach is already gaining traction, enabling retailers to leverage AI and ML technology to optimize supply chains. But the real value is in taking it one step further—to tap into rich customer data, understand rapidly changing consumer behaviors and ultimately—to predict and personalize shopping experiences at scale.
Tracking and Adapting to Evolving Consumer Journeys
Consumers increasingly demand greater choice, control, personalization and transparency and companies must continuously create, track and manage a 360º view of customers' shopping journeys to stay ahead of these trends. Fortunately, real-time data and analytical capabilities are available to supply the critical information they need to implement a programmatic commerce approach.
Among the shifts companies must track as a result of COVID-19 is the explosion in online grocery shopping. In November 2020, U.S. grocery delivery and pickup sales totaled $5.9 billion and a record high 83% of consumers intend to purchase groceries online again, signaling this trend continues as the pandemic lingers on.1 By 2025, online grocery sales are predicted to account for 21.5% of total grocery sales, representing more than a 60% increase over pre-pandemic estimates.2 A permanent shift toward online grocery shopping can be expected as consumers' shopping and fulfillment experience continues to improve.
For consumers still shopping in stores, the pandemic also drove switches in primary physical store locations. In the United States, an estimated 17% of consumers shifted away from their primary store since the start of the pandemic.3 This was driven by increased work-from-home, which eliminated commuting routes and made different store locations more convenient, including ones closer to home.
Given the multitude of changes impacting consumer journeys during the pandemic, it is imperative that companies track relevant purchase drivers and considerations of each purchase occasion, while also taking into account their recent shopping experience. This creates the need for consistent, seamless and relevant experiences across both digital and physical channels that aligns all touchpoints with the consumer as part of their "total commerce experience."
Multiple retailers are already pursuing this approach in the hope of retaining their "primary store" status across the totality of their consumers' shopping experiences. Walmart recently launched a new store format to help achieve "seamless omni-shopping experiences" for its customers through a digitally enabled shopping environment. Customers can use the Walmart app to efficiently find what they're looking for, discover new products, check pricing, and complete contactless checkout.4 Data tracked on these customers can eventually be used to create personalized recommendations and in-store activations and assistance based on their purchase history and in-store experience.
Conversely, the "digital store" is also being reimagined to align with consumers' in-store experience to create a seamless shopping experience. For example, personalized meal planning service The Dinner Daily now offers the ability for its members to order recipe ingredients directly from Kroger and other Kroger-owned stores through The Dinner Daily app.5 Integrated data from multiple shopping platforms and consumer touchpoints can provide food manufacturers and retailers with shopper profiles, consumer experiences, and purchase history along with inventory status and other inputs to ultimately build personalized customer experiences and enhance shopper loyalty.
Applying Programmatic Commerce to Deliver Personalization to Consumers
Once armed with real-time data in a uniform format from sources ranging from consumer search analytics to retailer promotional pricing, a programmatic commerce approach can provide companies with predictive understanding of demand and supply to optimize decision making from raw materials through production through retail or direct-to-consumer.
Using online grocery shopping as an example, consumer personalization can be delivered through the accurate prediction and display of items relevant to each shopper based on shopping history, preferences, current cart selections, and other inputs such as real-time availability, marketing promotions and more.
Innovations are already in the market, including Halla, a data science company that developed a grocery-specific personalization algorithm that works with grocery retailer e-commerce platforms to create smart recommendations based on understanding of individual shoppers' product usage and preferences.6 Another example is the Locai Solutions digital grocery platform, which applies AI to personalize recipe recommendations based on consumer preferences and purchase history and determines ingredients and quantities needed for easy incorporation into their shopping cart.7
The Path Ahead: Accelerating Technology Adoption in the Food Industry
AI and ML are already reducing waste across supply chains and enabling consumer personalization. However, currently only about 12% of retail decision-makers feel they are very effective at providing these experiences to customers and only 10% have access to the real-time data needed to achieve this goal.8
Modern programmatic commerce platforms (see Figure 1) can effectively bridge information gaps, improve inventory and distribution to prevent shortages or overages and help companies be data-ready to meet actual demand. Beyond this, a programmatic approach unlocks the next stage of customer satisfaction and loyalty, personalizing the experience during and after the pandemic.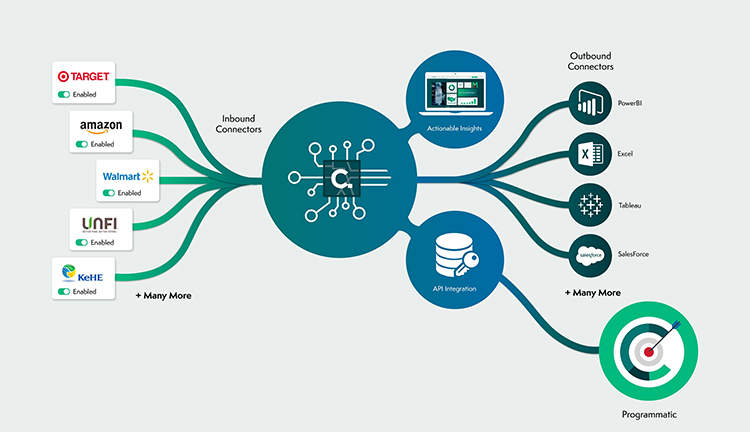 References