FSMA has arrived with the launch of the first two preventive control rules – Current Good Manufacturing Practice and Hazard Analysis and Risk-Based Preventive Controls for Human and Animal Food (or cGMP and HARPC, for short). With these new FSMA rules, the food and beverage industry will now be held accountable for being more proactive versus reactive, and will be responsible for identifying and managing risk throughout their supply chain. Of course, this emphasis on risk can also be seen in other sectors of the industry (i.e., GFSI and ISO), and risk has become the focal point for a number of compliance initiatives.
These days a number of supply chain challenges are driving risk. Continued global expansion of the industry is resulting in more import and export activities. We are seeing consumer food trends shift toward riskier food/preparation options. Regulatory agencies continue to work on improving their food safety requirements. And the growing population is putting more demands on our current resources. All of these factors equates to great risk within all stages of the supply chain.
Therefore, it will be important that you understand what risk management entails and have the right tools to identify, assess and control the risks that you find throughout your supply chain.
So where do we start looking for risk? Here are a few examples of where your risk assessments should be performed:
External Partners. You need to build strategic relationships with your external partners (suppliers, contract manufacturers/co-packers, service providers, carriers, etc.) across the supply chain. Building trust through good communication and collaboration is essential to ensure that you can rely on your partners to do the right thing for both parties.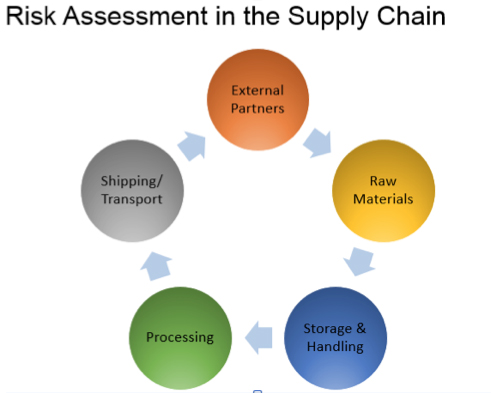 Raw Materials. Many hazards can be introduced into a facility through raw materials—whether we are talking about raw ingredients, packaging materials, chemicals, or other components used to produce your product. Some hazards to assess include pathogens, allergens, chemical residues, pests and foreign material.
Storage and Handling. When looking at risk during storage and handling, it is important to address several hazards including allergen control, temperature control, foreign material control, proper segregation and product flow.
Processing. A number of areas in processing can introduce hazards and therefore should be included in your risk assessment. These include improper sanitation, cross contamination/contact potential, foreign material contamination, critical control point deviations, pre-requisite program failures and mislabeling.
Shipping and Transport. Lastly, you must safeguard your shipping and transportation procedures in order to account for any potential risk once the product has left your facility. Areas to consider during your risk assessment include temperature control, condition and sanitation of truck and storage units, loading/unloading practices, security/tampering potential, accident/emergency recovery, and traceability.
For more information on risk management within the food and beverage supply chain, register to attend the free webinar "Supply Chain Management: Does What I Eat Put Me at Risk" on October 28, 2015. Speakers will discuss risk throughout the supply chain, focusing on supplier management and some of the new FSMA requirements. They will provide an overview of risk management and some of the tools that can be used to identify and assess risk. In addition, they will discuss how technology can help companies meet FSMA requirements.