Foodborne illnesses cost billions of dollars each year in the United States. A lack of standards can lead to severe consequences, including loss of customers, negative impact on brand reputation and employees missing work due to illness. As a result, safety is vital for any brand that is committed to high-quality food and maintaining a positive brand image.
Food safety management systems—the processes and procedures that companies set up to prevent contamination—are essential in reducing the risk of foodborne illness and ensuring the safest products possible.
By FDA regulation, most food processors must have HACCP as well as corrective actions/preventive action (CAPAs) plans in place. Even with the right safety guidelines, however, contamination or exposure to food hazards can still occur. The following are four ways to improve the quality of your food safety management system.
1. Conduct Regular Audits
Even if your business's HACCP is highly effective in theory, it won't prevent contamination unless actual practice lines up with documentation. Regular audits can ensure employee practice complies.
HACCPs are structured around identifying both potential food hazards and critical control points (CCPs) where your system has the opportunity to prevent, mitigate or eliminate a potential issue. Usually, this means storing food items or performing some biological, physical or chemical action to a target limit— like a specific temperature—to prevent or mitigate contamination.
For example, in the manufacturing of chicken products, cooking and hot-holding are critical control points at which the product needs to be heated to a certain temperature to eliminate or prevent potential hazards. Here, an audit would be a chance to ensure employees cooked and hot-held foods at the proper temperatures. If they aren't, the food safety management team can make policy changes that ensure practice lines up with planning.
The audit process should be consistent and occur regularly. It should also cover every aspect of your HACCP strategy and place a particular focus on potential hazards and CCPs. These audits can be a way to uncover the strengths and weaknesses of your current HACCP strategy. Companies can use this information to build upon existing practices or demonstrate how procedures could be more effective.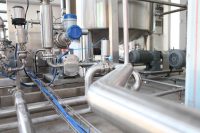 2. Consider a CCP Monitoring System
You can use automated or digital systems to ensure that CCPs aren't deviating from control limits. With the right sensors, it's possible to ensure that food remains between target limits at each CCP. For example, automated sensors can quickly alert plant staff if the temperature of food in cold storage rises above a certain threshold, or if there is a deviation from a given CCP.
These alerts can help staff quickly respond to deviations, ensuring compliance, and reducing the risk of contamination by food hazards.
3. Review and Maintain Equipment
An thorough equipment program can be highly effective in reducing the risk of food contamination. To minimize risk, your plan should look at the equipment needed in your plant, as well as how it's constructed and maintained. For example, choosing industry-standard or food-safe materials can help prevent contamination. Investing in the right kind of stainless steel can both improve operating costs and help reduce the risk of food exposed to hazards.
Preventive maintenance plans for food safety equipment can also reduce the risk of contamination by ensuring the proper functioning of site equipment.
4. Provide Employee Support and Encourage Buy-In
Training programs are an essential component of any HACCP. If your employees don't know how to handle food properly or aren't aware of HACCP documentation or the CCPs in the food processing pipeline, they won't be able to execute the plan and prevent contamination.
While training programs are crucial, they don't necessarily guarantee compliance. Common pitfalls exist that can discourage employees from following the plan. To encourage employee buy-in, training should begin by discussing the importance of food safety and the potential risks of contamination.
The training should also be robust enough that employees feel confident when executing the HACCP. Training staff should be sure to provide visual demonstrations and opportunities for employees to practice before they become responsible for food safety. Tests or evaluations both during and after training can be useful tools in determining how well your employees understand your business's HACCP strategy. Regular follow-ups on training can also ensure compliance and reduce the risk of contamination.
Improving Food Safety Management Systems
For any business that works with food, safety programs are essential in ensuring the safest and highest quality product possible. Existing food safety management systems can often improve with the right methods. For example, automated monitoring systems can reduce the risk of deviating from CCP limits. Employee training and regular audits can also ensure that a plant's food safety practices line up with the documented plan.