The COVID-19 pandemic propelled food processors to scrutinize various aspects of their existing employee hygiene and environmental safety programs in an effort to protect facility workers' health. Implementation of measures such as social distancing, illness screening, workspace barriers, additional personal protective equipment (PPE) and enhanced cleaning measures have aided the industry in reducing employee sickness and unplanned shutdowns.1 Of these actions, effective cleaning protocols in non-production areas, under the scope of facility janitorial programs, have been brought to heightened attention as a critical preventative measure for surface contamination of SARS-CoV-2.1 Through incorporation of the fundamental principles of sanitation programs utilized for food production zones, processors can elevate the effectiveness of their janitorial cleaning programs in non-production areas.
Scope of Janitorial Program
Food processing facilities should evaluate, using a risk-based assessment, all non-production areas that employees occupy on a routine basis, for inclusion into the janitorial cleaning program. Examples of areas that are routinely subject to high employee traffic and regular congregation include, but are not limited to, locker rooms, restrooms, break rooms, cafeterias, hallways, conference rooms and offices.
Additionally, specific surfaces within each of the identified non-production areas for inclusion into the program should also be evaluated in the risk-based assessment. Surfaces within these identified areas that are frequently touched, and present a greater likelihood of contamination to employees, would be considered higher-risk, and thus, command more focus during routine janitorial cleaning activities. Examples of such surfaces may include the following: Door handles, tables, desks, chairs, toilet and faucet handles, vending machines, phones, computers and other electronic devices.
Janitorial Best-Practice Examples
Sanitation Standard Operating Procedures
Sanitation standard operating procedures (SSOPs), or written cleaning instructions, should be developed for all janitorial cleaning tasks of selected employee and welfare areas, in a similar manner as those for production area equipment and infrastructure. These documents should contain pertinent information to effectively perform the desired janitorial tasks, such as the following: The individual(s) responsible for the task, appropriate chemicals, personal protective equipment (PPE) and other safety measures, frequency of cleaning, steps of cleaning execution and verification measures.
Chemical Selection & Use
Selection of chemicals for cleaning of employee and welfare areas is critically important in ensuring biological agents are effectively removed from surfaces during janitorial activities. Much like in production areas, the facility janitorial cleaning program should utilize an appropriate detergent suitable for removing residual surface soils as a base of the program. Inadequate removal of soils, such as grease or food debris in break rooms, will inhibit the effective removal of adverse biological agents.2 Additionally, the program should include an application of sanitizer or disinfectant to the target surface effective in neutralizing SARS-CoV-2.3
Cleaning Process & Frequency
An effective cleaning process for routine janitorial tasks can be modeled after the established Seven Steps of Sanitation commonly utilized in food production zones.4 Typical steps in this process applicable for janitorial cleaning should include: area preparation and dry cleaning, wiping surfaces with fresh water, application and wiping with detergent, removal of detergent with fresh water wiping, inspection verification activities and application of sanitizer or disinfectant to target surfaces for required dwell time (subsequent wiping of chemical after dwell time may be required). The frequency of cleaning and additional sanitizing activities should be validated and take into consideration times of employees breaks, level of non-production area occupancy and extent of employee contact with higher-risk surfaces. Additionally, individuals who performed the required cleaning tasks should ensure appropriate PPE is worn, not only to protect from chemicals utilized, but from biological agents that may be present on surfaces.
Master Sanitation Schedule
A master sanitation schedule, or MSS, encompassing janitorial cleaning activities that occur on a non-daily basis should be maintained either separately, or included in an existing sanitation schedule.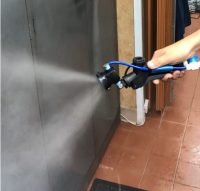 Examples of non-routine janitorial tasks may include:
Emptying and cleaning of personnel storage lockers
Cleaning of difficult-to-access surfaces for daily cleaning, such as ceilings, walls and around vending machines
Misting of frequently touched surfaces, or entire rooms, with an additional disinfectant chemical approved to inactivate SARS-Cov-2
The appropriate frequencies of these non-routine tasks should be validated through a risk-based assessment and continually verified to ensure effectiveness.
Employee Training
All employees who are required to perform routine and non-routine janitorial tasks should be fully trained and records maintained. This should not only include adequate training knowledge of required practices and documentation, but also chemical selection and handling specific to janitorial activities. Retention of knowledge should be verified and included in existing facility training programs. Routine auditing of the cleaning practices by facility personnel will ensure continued acceptable outcomes of the program.
Documentation
Completion of all janitorial cleaning activities should be documented and records maintained following similar practices for sanitation in production areas. As a best practice, documentation, such as checklists, should be made visible to employees who utilize the welfare areas as a means to convey facility hygiene practices and ease potential health concerns.
Validation & Verification of Cleaning Effectiveness
To ensure an established janitorial cleaning program for non-production areas is effective in achieving appropriate hygiene outcomes, the facility must validate and routinely verify the process. Validating the effectiveness of janitorial programs can be undertaken in much the same manner as performed for the traditional sanitation process in food production zones. A combination of visual inspection, environmental sampling and other methods should be utilized both during the validation and subsequent routine verification process. Specific to the COVID-19 pandemic, several contract laboratories offer surface environmental testing for SARS-CoV-2 (via RT-qPCR) that should be incorporated into janitorial validation and verification protocols.2,5 Routine absence of the virus will assist in demonstrating effectiveness of the facility janitorial cleaning program.
Conclusion
With the increased scrutiny of employee welfare during the COVID-19 pandemic, maintaining effective facility hygiene remains a critical goal of food processing facilities. Through incorporation of current sanitation best practices utilized in food production zones, facilities can elevate the outcomes of their janitorial cleaning programs, ensuring effective hygiene.
References