On November 16, the FDA announced that it had completed its first pre-market consultation for a human food made from cultured animal cells. After evaluating the information submitted by UPSIDE Foods, a company that uses animal cell culture technology to take living cells from chickens and grow the cells in a controlled environment to make the cultured animal cell food, the agency stated that it had no further questions at this time about the firm's safety conclusion.
In a statement from Commissioner Robert M. Califf, M.D., and Susan Mayne, Ph.D., director of the FDA Center for Food Safety and Applied Nutrition, the regulators explained that before this food can enter the market, the facility in which it is made also needs to meet applicable U.S. Department of Agriculture (USDA) and FDA requirements. In addition to the FDA's requirements, including facility registration for the cell culture portion, the manufacturing establishment needs a grant of inspection from the USDA Food Safety and Inspection Service (FSIS) for the harvest and post-harvest portions as well as a USDA mark of inspection the product itself.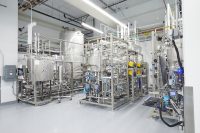 UPSIDE Foods' CEO Uma Valeti, M.D., celebrated the news with a mock letter to the chickens of the world. "So what does getting a 'No Questions Letter' mean, exactly? It means that the FDA accepts our safety conclusion and UPSIDE's cultivated chicken will be available following USDA inspection and label approval. It's an important step on the road to bringing cultivated chicken to the market in the U.S., and gets UPSIDE closer to being on tables everywhere," said Valeti. "And what does that mean? It means a whole new future is around the corner. And in that future, we might be eating just as much meat as we always have. But a lot fewer animals are going to have to suffer for it."
Now that the pre-market consultation is completed, the approval process will transition from the FDA to USDA FSIS oversight. USDA FSIS will oversee the post-harvest processing and labeling.
"The FDA is ready to work with additional firms developing cultured animal cell food and production processes to ensure their products are safe and lawful under the Federal Food, Drug, and Cosmetic Act," said Drs. Cardiff and Mayne. "We also plan to issue guidance to assist firms that intend to produce human foods from cultured animal cells to prepare for pre-market consultations. The published draft of this guidance will provide a formal opportunity to the public for comment."