Various types of pest birds can impact food plant structures and facility surroundings. Even a single bird that finds its way into a food plant can trigger a host of concerns such as, failed audits, product contamination, plant closure, production stoppage, lost revenues, fines, structural damage, health hazards to occupants and fire hazards.
In most cases, a food plant operation has a bulletproof pest control plan; however, in most cases, birds are always an afterthought in most pest management plans. After inspecting and consulting numerous food plants, I hear the same story over and over: "I have a person in the warehouse that can chase them out" or, "are birds really a big deal?" or, "why do I have to be concerned about birds?" and on and on. Despite what you may think, birds are a big deal, and you should take them seriously!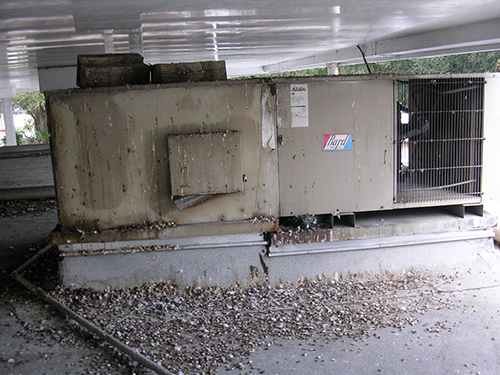 Since food processing plants contain areas that have very sensitive environments, birds can introduce various adulterants and harmful contaminants. Birds can cause potential harm to humans due to foodborne illness.
Pest Bird Species
There are four main pest birds: Pigeon, Starling, Sparrow and Seagull. Each one of these birds can cause a host of concerns and issues for food processing facilities. Just one bird can cause catastrophic damage. In most cases, small pest birds such as Sparrows and Starlings can gain access into a facility through a variety of ways:
Damaged bumpers around truck bay loading dock doors.
Open doors (seems obvious, but I always find doors wide open during audits).
General building deficiencies.
Larger birds, such as Pigeons and Seagulls, typically cause more problems around the exterior of a facility on ledges, rooftops, HVAC units, loading docks and related areas.
In either case, these various types of pest birds can cause significant problems on the interior and exterior of food plants.
Conducive Conditions
In most cases, facilities want to reduce as many conducive conditions as they can around and within the facility in a timely fashion. A conducive condition is one whereby due to a building condition, structural design, equipment operation, food or water source, or surrounding conditions (i.e., near a public landfill, raw materials mill or body of water) can attract pest birds to a facility. With each of these conditions, great care must be taken to reduce as many conducive conditions as possible.
Examples of Conducive Conditions
Structural Conditions
Loading docks/canopies with open beams and rafters
HVAC equipment
Pooling water (roof and landscaping)
Structural overhangs and ledges
Open access points
Landscaping (types of plantings)
Damaged truck bay bumpers
Gaps and opening around the structure
Doors with improper sealing
Human Conditions
Open dumpsters
Overflowing dumpsters
Dirty dumpsters
Product spillage
Employees feeding birds
Doors left open
All these conducive conditions, if left unresolved, can lead to significant bird problems. Reducing as many conducive conditions as possible will be the first step of any bird management program.
Bird Control Methods
From the start, your facility should have a bird management plan of action. For the most part, bird problems should not be left to be handled internally, unless your staff has been properly trained and has a bird management plan in place.
Most birds are protected by the Federal Migratory Bird Treaty Act of 1918. However, Pigeons, Sparrows, and Starlings are considered non-migratory birds and are not protected under this Act. Even though these three bird species are not protected, control methods still need to be humane. More specifically, your bird control program must also comply with is the American Veterinary Medical Association ("AVMA") Guidelines for the Euthanasia of Animals if this is the control method selected. The AVMA considers the House Sparrows, Feral Pigeon, and the Common Starling "Free-Ranging Wildlife." And Free-Ranging Wildlife may only be humanely euthanized by specifically proscribed methodology.
In addition to the above-mentioned regulations, various regulations regarding the relocation of birds/nests may also apply. I also always recommend checking with local and state agencies to ensure that there are no local regulations that may apply. Bottom line: Don't rely on untrained internal practices; one misstep could result in heavy financial fines and penalties.
Bird Management Strategies
First Line Defense
Stop any bird feeding around the facility immediately

Any bird management plan should have a clear policy prohibiting employees from feeding birds. Once birds have been accustomed to routine feeding, the birds will continue to return.

Eliminate Standing Water Sources

All standing or pooled water needs to be eliminated. Thus, routine roof inspections need to be conducted to ensure drains are working properly.
Landscape irrigation needs to be calibrated to ensure no puddling of water in areas of low sun exposure.

Proper Sanitation Practices

Ensure that dumpster lids are closed when not in use.
Trash removal frequency adequate.
Routine cleaning of trash receptacles.
Immediate removal of spilled food.

Eliminate Entry Points
Survey the facility to ensure that all holes are properly sealed.
• Around truck bay bumpers and doors
Exhaust vents are properly screened.
Windows are closed and have screens when in use.
The most appropriate bird control strategy will be determined based on the severity of the bird pressure. For example, if the bird pressure is high (birds have nested), then in most cases, you will only be able to use bird exclusion methods. Whereas, if the bird pressure is light to moderate (birds have not nested), bird deterrent methods can be used. This is an important distinction. Bird exclusion is physically changing the area to permanently exclude said pest birds. Whereas, bird deterrent devices inhibit birds from landing on treated areas.
Bird Deterrent Methods
After the previously mentioned first-line strategies have been implemented, the next step would be to install bird deterrent products (birds have not nested).
Bird Spikes
Bird Wire
Electrified Shock Track
Bird Gel
Sonic & Ultra Sonic Devices
Lasers and Optical Deterrents
Hazing & Misting Devices
Pyrotechnics
Live Capture
Bird Exclusion Methods
If the birds have nested in or around the facility, the next step would be to install bird exclusion products (birds have nested).
Bird Netting
Ledge Exclusion (AviAngle)
Architectural modifying structural
Aggressive Harvesting (Targeting)
Prevention Strategies
The best prevention strategy is planning and knowledge. Conduct a bird audit and develop a bird management plan before birds get near or inside the facility. The key is to act quickly, as soon as an incident occurs. I find countless times when I am called in to consult or service a food plant, that the birds got into the facility and no one knew what to do, and as a result, the birds remained within the facility for an extended period, thus increasing the risk of exposure. It is always much easier to remove a bird when they are unfamiliar with their surroundings. Whereas, it is much more difficult to remove birds from a facility that has had a long-standing bird problem.
Once you have a plan, who oversees the bird management plan? Are thresholds determined and set for various areas of the facility? For example, a zero threshold in production areas? Threshold levels will be set based upon by location and sensitivity of the said location. What steps are going to be taken to remove the bird? For how long is each step conducted? These questions need to be answered and developed to stay ahead of bird problems.
Reduce as many conducive conditions as possible. The longer a conducive condition stays active, the more likely birds, as well as other wildlife or rodents, will be attracted to the site and find a way into the facility.
Pathogen Contamination & Hazards
Birds present a host of problems, whether they are inside or outside of a facility. Birds can roost by air vents, and the accumulation of bird feces can enter the facility air system. Bird droppings on walkways and related areas allow for the possibility of vectoring of said dropping when employees step on droppings. Thus, spreading fecal matter/spores and other contaminants to areas throughout the facility.
If birds are within the facility, droppings can spread on product lines, raw materials, stored products, equipment and more, thus, causing contamination. Because of a bird's ability to fly, they are perfect creatures to spread various diseases, pathogens, ectoparasites and fungal materials. Diseases such as Histoplasmosis, Salmonella, Encephalitis, E-coli, Listeria, and more. Birds have been known to transmit more than 60 infectious diseases!
Besides the spread of potentially harmful contaminants throughout the facility, bird droppings and nesting materials can also create a host of additional problems:
The acidity in bird droppings can damage building finishes, façade signs, lighting and more.
Wet bird droppings can create a slip and fall hazard.
Bird nesting materials can create a fire hazard around façade signs, exit signs and light fixtures.
Bird nesting and debris can clog roof drains and cause roof leaks from standing water.
Introduction of ectoparasites into the facility such as bird mites, lice, fleas, ticks and more.
Conclusion
In summary, taking a proactive approach to bird control is the best practice. Reduce food, water and shelter sources (aka conducive conditions) promptly. Pest management programs need to implement a more in-depth section of the program for bird control. Like integrated pest management, bird control should be based upon an integrated method. Each facility will have its unique challenges. As such, each bird management plan needs to be tailored to the specific site. A well designed and balanced, integrated bird management program will provide long-term and cost-efficient bird control.
The next article in this series takes a closer look at how to prepare an integrated bird management audit program.