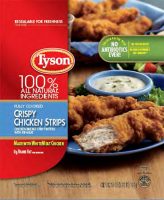 Over the weekend Tyson Foods, Inc. announced an expanded voluntary recall of its frozen, ready-to-eat chicken strips due to more issues involving contamination with metal fragments. The initial recall occurred on March 21 and involved 69,093 pounds of product. All RTE chicken strips under the Class I recall have the establishment number "P-7221" on the product package and were produced between October 1, 2018 and March 2019, with "Use By Dates" of October 1, 2019 through March 7, 2020. The products were shipped nationwide to retail and Department of Defense locations, as well as to the U.S. Virgin Islands.
"Our company is taking corrective action at the location that makes these products. We have discontinued use of the specific equipment believed to be associated with the metal fragments, and we will be installing metal-detecting X-ray machinery to replace the plant's existing metal-detection system. We will also be using a third-party video auditing system for metal-detection verification," said Barbara Masters, DVM, vice president of regulatory food policy, food and agriculture for Tyson Foods in a company news release.
Thus far there have been six consumer complaints involving metals pieces, with three people claiming oral injury.
FSIS has provided images of the product labels involved in the recall.