This month's interview focuses on an area of food safety leadership we haven't yet covered in our Women in Food Safety column: The non-profit sector. There are career paths in food safety in the non-profit sector and this month we've asked Mitzi Baum, CEO of Stop Foodborne Illness, to share her story of how she began her career and what wisdom she can offer those seeking roles in leadership or the non-profit sector.
When I met with Mitzi, I realized immediately she was a very down-to-earth leader who had a contagious energy to anyone that might cross paths with her. We started our conversation learning a bit about each other; she talked about her path from majoring in hospitality and restaurant management to working at Feeding America and to now heading up Stop Foodborne Illness. We chatted about some of the challenges we see for women in the food safety sector, and exchanged some stories and thoughts on why women face these challenges.
One story in particular that Mitzi shared was when she first realized the lack of female leadership in food safety. This story went back early in her career, more than 20 years ago, when she was asked to start engaging at industry conferences. When she arrived in the room at her first conference, she thought she stuck out like a sore thumb. There she was, dressed in a brightly colored outfit, entering a room that could best be described as "a sea of middle-aged men in gray suits". Although this could have been intimidating for a young female at the time, Mitzi made the best of it and forced herself to introduce herself, talk to strangers, and sign up for every session and networking dinner possible. By the end of the conference, she had made lasting contacts, and her initial feels of intimidation were washed away.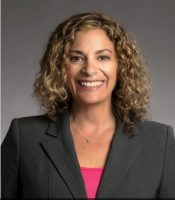 Mitzi and I talked a bit about how the non-profit sector works, and how far some have come, especially food banks. She has watched food banks evolve from small- and less-organized operations into major operations that are being run more efficiently and offering more food options because they've been able to raise substantial amounts of money to improve the operational capabilities and infrastructure. food banks went from dealing with dented cans and shelf-stable products to now offering fresh produce and frozen items simply because funding allowed improvements such as freezers and refrigerators to be added to food bank locations. She credits female leadership in making this change in the food bank system.
There is an emotional component to Mitzi's job at Stop Foodborne Illness. She frequently engages with the families of victims of foodborne illness. Each of the stories that are shared is personal, and an element of empathy is critical as she works with them to share their story.
I really enjoyed getting to know Mitzi and I'm sure you will too as the following Q&A features some of her insights and experiences as being a female leader in the food safety world.
Jill Hoffman: Could you please tell us how you started your career and how you made it to where you are today?
Mitzi Baum: My career began in restaurants. My first job was at 15 years of age in a chili parlor in Cincinnati, OH. I went to college and earned a degree in restaurant/hospitality management and liked learning about food science and the micro aspects of food. I graduated and became a kitchen manager for the Peasant Restaurant Group in Atlanta, front-of-the-house manager for the Funky's Restaurant Group in Cincinnati; and manager for Lettuce Entertain You Enterprises in Chicago. I did not find the lifestyle rewarding and looked to other opportunities to apply my degree and developed skills. I was fortunate to find Feeding America (then called Second Harvest) to apply my knowledge of inventory management, food safety, operational standards and other aspects of management to the distribution of food to those in need of food assistance.
I conducted compliance audits for the food bank network for more than 13 years—traveling across the country assisting and learning from those working on the front lines. I moved into program management and then into the role of director of food safety to institute a compulsory third-party food safety audit for the network of food banks. There was a big learning curve at the food bank level to overcome, so we began to socialize the food safety audit, provided food safety improvement grants, walked individual food bank staff through the process, and we were able to successfully achieve our goal.
During my 23 years of experience at Feeding America, I developed many management and leadership skills that I wanted to flex and make a transition. The opportunity to step beyond food safety presented itself in the form of the CEO of Stop Foodborne Illness (STOP). I have been at STOP for a little more than two years and I have learned so much about leadership, management and myself.
Mitzi Baum led a panel discussion, "Get with the Program: Modernization of Poultry Inspections in the United States", during the Salmonella: Detection, Mitigation, Control & Regulation virtual event | Watch on DemandHoffman: You have a background in the non-profit sector. What are some of the differences in working in the non-profit vs. the for-profit sector?
Baum: Non-profit work is focused on a mission or what an organization is trying to achieve. All work and work activities are focused on accomplishing the stated mission. Fundraising is also an integral part of the non-profit sector. While for-profits earn income by selling a tangible asset, the non-profit sector must work to identify individuals, foundations and other grant-making institutions that have an interest in their mission, engage and court them, and ask them for funding to support their stated activities to attain the mission. It takes time to increase awareness of a mission/organization and build a strong fundraising foundation to grow the organization.
Hoffman: You've also been teaching a course in the food safety master's program at Michigan State University (MSU). How did you get into the role, what are you teaching, and what do you enjoy the most about the opportunity?
Baum: The current course I created for the Online Food Safety Program at MSU is called The Role of Food Safety in Food Waste Reduction. During my time at Feeding America, I worked in the area of food waste reduction and focused on the application of the same food safety standards that apply to retailers to donated foods. Realizing that food donation and food banks are part of our society and need was growing, it occurred to me to capitalize on the opportunity to expand the knowledge of students in the food safety program about food waste reduction. I enjoy knowing that the students taking the course have a better understanding of what happens to foods that are unsold and donated. It is an essential part of our societal infrastructure to focus on providing food to those in need and reducing food waste. My hope is for food safety professionals who take the course to be exposed to more information about the "last mile" that donated food travels.
Jaime Ragos, STOP's 2020 Dave Theno Fellow, and I have been creating a new course for the Online Food Safety Program called Food Safety Failures. Jaime identified an opportunity to utilize case studies of outbreaks to provide a different perspective to the epidemiological investigation. The course will go live in the fall of 2021.
Hoffman: What would be your number one piece of advice to young women, students and professionals who are planning to have lead roles in food safety?
Baum: My motto is "you can't get what you want unless you ask for it". You must be your own advocate and ask for what you want. Communicating what you want or see as your career path as a professional is essential to achieving your goal.
Hoffman: What are the significant advantages and/or disadvantages of being a female CEO?
Baum: I never look at being a woman as a disadvantage. Women are resilient and consistently persevere. If we can't get over an obstacle, we find a way to go around it and continue on the path or create a new one. I consider that grit and determination to be the ultimate advantage.
Hoffman: What are the significant strengths of being a female executive?
Baum: Be decisive, be direct, be transparent, be inclusive and most of all, be you.
Hoffman: What do you hope to see in the next three to five years in terms of development and mentoring women in the industry? Do you see any gaps that need to be filled?
Baum: I would like to see more women in roles of authority in the industry. Women have many lived experiences that uniquely qualify them for executive-level positions.
There have been many groups created to support women in food safety which builds community. Individually, it is imperative that each of us is proactive and mentor each other. Mentoring works in both directions; those of us that have been in the work force for a longer period of time can learn a lot from those who just landed their first job. Conversely, we can share our experiences with the younger work force to provide guidance to navigate the current work environment and manage the challenges of being a younger person beginning their career path.
Hoffman: What would you advise females who are working towards a position on an executive or leadership team?
Baum: Don't be afraid to take a risk. Admittedly, it was very scary to leave a career I cultivated over 23 years – it was comfortable, and I knew what to expect; I did not know what I was capable of until I took a leap of faith. I have many motivational quotes on my desk but my favorite, and the one that consistently urges me to embrace change and take risk, is from Pablo Picasso, "Action is the foundational key to all success."