Over the past year, FDA has been emphasizing the level of collaboration necessary with industry to drive a more preventive culture of food safety.  Much of these efforts surround closely integrated partnerships between federal, state and local stakeholders, including a larger role that laboratories will play in FSMA implementation.
There will be greater reliance on the responsibilities and capabilities of laboratories as a result of the proactive movement in finding points of contamination, before they invade the home of the consumer, in real time. With the convergence of more laboratory analysis and the responsibilities that the FSMA regulations warrant, industry will be relying on the establishment of uniform and standardized lab-related processes and policies in order to bring uniformity and trust to the quality of data being generated and shared, according to Palmer Orlandi, Ph.D., acting chief science officer and research director at FDA's Office of Food and Veterinary Medicine. Orlandi, speaking at the Food Labs Conference last week, said that FDA is moving in this direction. "The oversights we're mandating moving forward for data sharing, data reporting and data acceptance are completely equivalent across the board," he said. FDA is working toward providing more transparency in terms of laboratory oversight and how it intends on working with industry.
Within the five published final FSMA rules there is at least some component of lab support that is necessary. The rule that deals the most with lab involvement, especially laboratory accreditation, is the foreign supplier verification program, because the responsibility falls on the importer to assure and verify safety of the commodity, and this requires the submission of laboratory analysis, said Orlandi.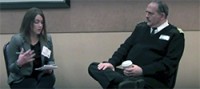 Currently the majority of FDA's work effort in the laboratory category falls under compliance program driven sampling, with domestic activities (i.e., inspections) and import activities coming in second and third respectively. Moving forward, environmental driven sampling will play a much larger role, as FSMA places greater emphasis on a risk-based approach and finding issues in real time, directly in the environment.
"We don't want to be the agency that is just is responding to foodborne outbreaks or responding to problems with industry or farms or any of the commodities," said Orlandi. "We want to work and become less of an enforcement agency and one of a partner so we can stop problems where they may occur. That involves making partners and leveraging our resources."
FDA is expanding its responsibility for testing and sampling in the area of surveillance, verification (i.e., preventive controls and import controls), and compliance (i.e., removing adulterated products from the market, enforcement actions, and environmental assessment). The agency is taking a risk-based approach to deploying its resources, and where it does not have the capacity it will be relying on partners for assistance. It is also investing more resources in import testing and the criteria that go into accepting data for import testing, and will be preparing guidance for submission of data.
FDA Vs. USDA: Who Regulates What?
FDA Responsibilities
USDA Responsibilities
Manufacturers, processers, packers, holders, distributors, food transporters

Growers of fresh fruits and vegetables, tree nuts and sprouts

Dairy products

Plant products and spices

Grain-based products

Seafood (except catfish)

Beverages and bottled water

Food and color additives

Dietary supplements

Meat

Poultry

Frozen, dried and liquid eggs (FDA regulates whole eggs)

Catfish

FDA tests foods for the presence of pesticides, toxic elements, mycotoxins, chemotherapeutics in seafood, and microbial hazards (bacterial, parasitic, viral)