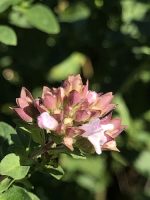 The European Commission's Rapid Alert System for Food and Feed (RASFF) Portal shows a notification about the use of olive leaves in oregano in Turkey. Addition of cheaper bulking agents to herbs and spices is a common way of achieving a higher profit margin for pricier herbs. The olive leaves were classified as an unauthorized novel ingredient; however, they are known to be used for the adulteration of oregano. An investigation of commercial oregano samples showed that one quarter of samples were adulterated with other plant leaves, and two of the samples didn't even contain any oregano.
Resources
European Commission RASFF Portal. (August 14, 2020). Notification details – 2020.3270 "Unauthorised novel food ingredient olive leaves in oregano from Turkey, via the Netherlands".
Black, C. et al. (November 1, 2016) "A comprehensive strategy to detect the fraudulent adulteration of herbs: The oregano approach". Food Chemistry.