"As food safety leaders, it is our responsibility to actively investigate the newest technologies in the market with the goal of providing the highest level of safety for our customers. The regulatory environment is rapidly evolving from a position of hazard management to preventative control, which challenges the status quo while promoting innovation. In addition, we are actively working to build food safety cultures within our operations," says Jeremy Schneider, business development director, food safety and quality assurance at Controlant. "On top of these mandates, we are consistently being challenged to find ways to improve quality, reduce waste, and assure supply. When taken as a collective mandate, this can be considered a challenge that allows the industry to solve previously unsolvable business problems in new and exciting ways. Utilizing the newest technologies for enhanced supply chain visibility is the solution to some of our most challenging industry-wide problems."
Schneider has more than 15 years of experience in the food quality, safety, and regulatory sector. His experience spans managing food safety and quality systems within several fast-casual restaurant chains as well as food manufacturing. In a Q&A with Food Safety Tech, Schneider discusses some of the issues that food companies are experiencing surrounding traceability in their supply chain.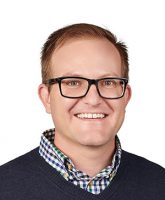 Food Safety Tech: What challenges are food companies and retailers facing when it comes to real-time monitoring of their supply chain?
Jeremy Schneider: One of the biggest challenges that the industry faces when it comes to real-time monitoring of the supply chain is where to start. As you can imagine, implementing a program that allows for an organization to monitor all shipments, including those that are shipped internationally, by ship, air freight, over the road or by rail, can be daunting.
As with all food safety programs, it is advised to take a risk-based approach to the project. Begin with the highest-risk items within your supply chain and work to your second- and third-tier items or suppliers. When implemented by category over time, you will find implementation less challenging. It is important to remember that when you begin a real-time program, you will start to discover eye-opening information about your supply chain. It's important that you develop strategies to deal effectively with these incidents.
Another primary concern for the food industry is the cost of implementation, as well as the return on investment. We have found that, by implementing a real-time monitoring solution, an organization is able to dramatically reduce shipping loss because of temperature abuse. Oftentimes, the program provides a net savings for the organization. When considering the cost of wasted food, freight, liability, lost sales and labor, a real-time supply chain visibility solution becomes a cost-effective program very quickly.
FST: Are there any lessons learned from recent outbreaks or recalls regarding traceability?
Schneider: Over the last several years, the industry has made real progress towards a transparent supply chain. However, it must be said that much work is needed to meet regulatory standards and consumer expectations when it comes to traceability. As we have become accustomed to having information that provides insights into all facets of our life, the same is becoming true of the supply chain.
Being able to have business-critical data immediately, such as real-time supply chain and traceability data, is revolutionizing the industry and is allowing enterprise-wide improvements. During a crisis situation, being able to have insights into your supply chain is paramount. Unfortunately, it has become all too common for organizations to take the ''out of an abundance of caution'' approach and remove all products from the supply chain, regardless of lot code or other data, to ensure consumer safety.
The consequence of such an approach is that much more product is removed than necessary, which compounds the effects of the incident. Having had the appropriate traceability information allows organizations to take a precision-focused approach, allowing for organizations to minimize the impact as much as is safely possible.
To help organizations solve this dilemma, there are a variety of technology offerings available to help companies collect and transform data so that it can be easily used. In addition, layering rich data, such as that which is created from real-time Internet-of-Things (IoT) devices and cloud-enabled software technology, helps provide dimensional insights into your supply chain information.
FST: How can companies leverage technology to be proactive in maintaining consistent tracking and tracing throughout the supply chain?
Schneider: As we enter an era of smarter food safety, each organization will be challenged to solve some of the most pressing concerns using state-of-the-art technology. The great thing about having actionable traceability data, beyond its uses to support food safety, is that it allows an organization the ability to gain insights into their supply chain at both the micro- and macro-levels.
As an example, when an organization implements a real-time temperature monitoring program, not only are they able to identify and resolve temperature deviations before they become food safety or quality incidents, logistics can then utilize the data to optimize the shipping lane to reduce costs, and purchasing is able to know exactly where a truck is located on its route. Being able to show the value that location traceability data provides across an enterprise helps to improve the organization at every level.