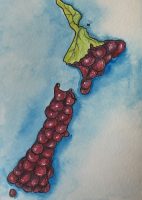 New Zealand is known for its premier, high quality wine industry, enjoying a steady growth for the past several years. Even just one isolated case like the one reported here can hurt the reputation of an entire country's wine industry. The Ministry of Primary Industries in New Zealand found that a large wine producer in New Zealand is responsible for falsely blending wines, as well as mislabeling the vintage and origin of the wines. The wines do not pose any health risks but due to the damaging nature to the New Zealand wine industry, this fraud is being punished by a hefty fine and other sentences.
Resources
Radio New Zealand (March 13, 2020). "Wine fraud: Southern Boundary Wines fined $1.7m".
Shermand, E. (August 4, 2017). "New Zealand Winery Accused of Wine Fraud in Landmark Case". Food & Wine.