To understand why an integrated informatics solution is important to manufacturers in the food and beverage industry, it helps to first consider the unique challenges this industry faces. Simply put, food production has scaled into a global business so rapidly that oversight has hardly kept pace. Even the stricter regulatory stances taken by the FDA and the European Union in the past decade are effectively catch-up efforts.
The broader food industry, which for purposes of this article will also comprise the beverage industry, has globalized quickly and, many would argue, haphazardly. It actually wasn't that long ago that the products we purchased in our local food store were produced locally or regionally. Seasons determined selections as well—if you wanted a tomato in November, you would pay a premium for that indulgence.
Seasons and geography no longer constrain what we can buy and when. By far the world's largest industry—with a combined revenue of more than $4 trillion, the food industry has used its massive scale to overcome historical limitations. We now take for granted that our grocery carts can be filled with fresh products that may come from thousands of miles away. And those products may have been grown, processed and shipped in multiple countries before they reach our local grocer.
The complexity and scale of this modern food supply chain is the industry's greatest challenge and regulators' greatest worry (on consumers' behalf). How can growers, producers, processors, packagers, shippers and others in the global supply chain secure a food chain that's so distributed? How can regulators ensure safety without restricting choice or inflating prices?
The Bits and "Bytes" of Food Safety
The food industry—and its regulators—would likely agree on one thing: A system this massive cannot operate on trust alone, as it once did. The grower with generations of experience on the land, for example, is now too far removed from end consumers. A finished product may contain one farmer's product and those from five others, all from different regions worldwide.
Integrated informatics may seem like an unlikely fix for modernizing a highly distributed food chain, but it's actually perfectly suited. An integrated informatics platform provides access to massive amounts of information in a timely fashion, dramatically improving decision-making. It does this by making information rapidly available to many stakeholders and by ensuring that it's reliable.
Consider this example. A hypothetical lab uses an analytical instrument to detect pesticides in barley, and regulation dictates that this data be compared to allowable maximum residue limits (MRLs). If the barley sample exceeds allowable MRLs, the manufacturer must identify everywhere that ingredient is being used, quarantine it and determine who produced it. All this must happen quickly and according to strict procedures.
Procedures are critical. Not only must the lab have a process for checking against current limits for a pesticide, for example, but also that analytical information must be carefully tracked with the appropriate sample, and the method used to deliver the result must be consistent between different samples and users. Without an integrated informatics solution, adhering to these procedures, defending the quality of the data, and making it usable would be nearly impossible.
The Role of Informatics in Compliance
Gathering the bits and bytes of data, following procedures and making the data useful enterprise-wide is important, but regulatory compliance is where most industry attention is focused today. This is another area where integrated informatics provides significant benefits.
As mentioned above, food industry growth significantly outpaced regulatory oversight in the past decade. Globalization was rapid and inevitable, but so too were food safety breaches, and with progress came stories of tainted fruits, vegetables, meats, cereals, nut butters and much more. Suddenly we had a trust issue. With a food chain that's distributed across many borders and jurisdictions, how is the public's trust best protected and by whom?
From the Food Safety Modernization Act (FSMA) to EU Regulation No. 178/2002, we've seen a heightened regulatory focus, and the most common themes are traceability, authenticity and risk-based approaches. The common denominator here is food chain security.
So what does all of this mean for multinational food and beverage producers? It means having to conform to multiple regulatory requirements for each distribution market, and there are often many. And this is a data management and reporting headache. Fortunately, however, common standards such as ISO 22000 exist that enable companies to standardize their processes enterprise-wide, achieving levels of operational rigor and quality that satisfy multiple regulatory authorities at once.
So where do informatics fit into this regulatory compliance landscape? In a typical multinational food producer, a significant amount of the quality data is delivered by the laboratory. Raw materials are analysed for pesticides, herbicides, nutritional content and so on. Packaged products are monitored for shelf-life compliance. Plant hygiene is monitored using microbiological samples taken from across the facility. Records from all of these distinct, but interrelated activities are critical for demonstrating compliance.
Defending Data
The shift in recent years has been toward prevention instead of crisis response. Regulators now focus on auditing food and beverage producers to assess their practices prior to any adverse event. For companies with good systems in place, time-consuming audits will be less frequent, so it pays to have systems in place that demonstrate that data is reliable and defensible.
Audits can be daunting. The producer must prove that activities were carried out correctly, that records are properly collected and that supporting information is accurate. Auditors typically pick a starting point in a process and follow the trail. They may start by looking at the data associated with a released batch of product; perhaps quality assurance samples; follow the trail to cleaning validation, and then review individual laboratory results, including entire methods, instrument calibration, user training, etc. At each point of the audit, producers must show evidence of compliance—even the smallest details.
With an integrated informatics solution, all evidence resides in a single platform. Hierarchies and relationships within the data records are automatically recorded and retained. Everything—from relationships between lots or batches of material; the connection between methods, specifications and results; the history of an instrument configuration, maintenance and calibration; and user training records—is in one place for easy retrieval and reporting.
Having one system of record not only codifies data capture, it also helps labs create standard operating procedures (SOPs). Establishing SOPs does several important things:
It ensures that all lab users are following the same process—no personal preferences for carrying out a specific test.
It makes sure that all necessary data is collected—by enforcing a series of data entry steps, labs can prevent a method from being marked complete until everything has been entered.
Labs can roll out updates to their processes by updating the method for all users at the same time.
Managing lab execution activities in this way means that data is more consistent; it is being collected in the same way for all users. It is also prone to fewer errors because users move stepwise through each stage of the measurement process, and they can stop a test whenever they encounter a problem.
Achieving Traceability
Traceability, the ability to verify the history, location or application of an item using documented information, has become increasingly more important for the food industry. And traceability is closely linked to compliance and data defensibility. Fortunately, traceability is another strength of an integrated informatics solution.
In practical terms, to demonstrate traceability we must be able to go either backwards or forwards within a set of process items and understand the complicated relationships. An integrated informatics solution lets us map relationships between "child" and "parent" batches, information that can also come from integrating ERP or process or production information management (PIMS) systems. By integrating all this information, manufacturers can trace a product back through intermediate products and raw materials and then forward again to any resultant batches that may be contaminated. In other words, with an integrated informatics solution, traceability is built in.
Brand Protection
Because of its size and fragmentation, the global food and beverage industry is a target for adulteration and counterfeiting. The Grocery Manufacturers Association estimates that these activities cost the industry $10–15 billion each year.
While the risk to consumers of adulteration can be deadly, as in the case of milk solids adulterated with melamine in China, much of the impact comes in the form of trust erosion and fraud. An example is Manuka honey, a premium product with purported health benefits that commands a high price. The entry of fraudulent producers into the market affects legitimate producers by creating uncertainly about all products, depressing sales and lowering prices.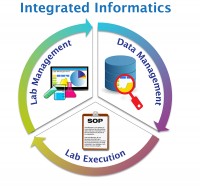 This is only one example, but it illustrates the larger problem: Once consumer trust erodes, it's hard to regain. As it happens, however, honey has unique chemical markers that can be used to determine whether it has been adulterated. But isolating these markers involves complex analysis, including ultra- high-performance liquid chromatography (UHPLC), and methods that are highly specific, consistent and defensible.
Consistency and defensibility are hallmarks of an integrated informatics solution. For the honey producers, an informatics solutions, such a LIMS, can automate processes so that no non-conforming product is missed, establish compliance rules and checks for instrument calibration so that results are defensible, and standardize methods through built-in laboratory execution system (LES) capability.
Conclusion
An integrated informatics solutions is designed to address multiple business needs in the food and beverage industry, from compliance and data defensibility to traceability and brand protection. The complexity and scale of the modern food supply chain demands it.
Growers, producers, processers, packagers, shippers and others in the global supply chain are now interdependent, but not necessarily integrated. The only way to protect consumers, however, is to achieve this integration through a combination of voluntary and imposed compliance. And to achieve this compliance without undue burden on the industry and imposing higher costs on consumers, we need technology that is built for integration at scale—and informatics solutions have proven they are more than capable.