The Association for Food Safety Auditing Professionals (AFSAP) announces the selection of the Food Safety Supply Chain Conference as the site for the first Audit Stakeholders meeting on June 13 in Rockville, MD. This historic event will bring together FDA, accreditation bodies (ABs), certification bodies (CBs) and other interested parties to outline the requirements for FDA's Accredited Certification to better understand the AB/CB roles in FSMA's use of audits to protect the U.S. food supply.
There are two objectives for this meeting: First, the gaps in the current program must be explained so that all understand the challenges ahead. Second, and even more critical, will be to explore solutions such as creating a Voluntary Scheme Owner that will address those gaps.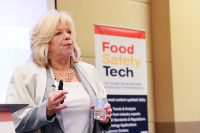 AFSAP's founder, Patricia Wester, spearheaded the meeting to address critical questions regarding implementation of FDA's Third-Party Audit program and provide a platform to discuss potential solutions.
"FDA's program involves certification of regulatory compliance, which is an entirely new approach for CB's currently involved in the GFSI system," says Wester. "As currently structured, the individual CB's responsibilities will include activities such as audit checklist development and auditor training requirements that will negatively impact audit consistency and dramatically increase audit costs. Another key concern is maintaining the audit documents, because regulations do not change on a regular cycle like GFSI, further adding costs and variability to the program."
Supported by AFSAP's food safety partners, NEHA and ANSI, long-time supporters of AFSAP's efforts to raise awareness of FSMA's use of audits, the Food Safety Supply Chain event provided the ideal venue to hold the discussion.
About AFSAP
The Association for Food Safety Auditing Professionals is a member driven association created to advance and support the professional development of food safety auditors globally. As a 501(c)(3) Trade Association, AFSAP provides a universal platform for individual auditors and the auditing community at large to harness their combined experience and knowledge into a powerful tool equal to the significant challenges that lie ahead. Working together, AFSAP members will have an unprecedented opportunity to engage regulatory agencies and external stakeholders with a unified voice, and collaborate on the development of creative solutions to the issues facing the food safety auditing industry.
About Food Safety Tech
Food Safety Tech is an industry-specific eMagazine and Conference series serving the global food industry. Built on the platform of the next generation model for B2B publishing, Food Safety Tech delivers top quality content in a proactive manner through a weekly eNewsletter while maintaining a website, the eMagazine that stores the content providing easy accessibility. This hybrid model provides a two way street of digital communication to the global food industry. Food Safety Tech is published by Innovative Publishing, LLC.