Food fraud has been estimated to cost our industry over $50 billion per year. Performing a comprehensive fraud vulnerability assessment is now a key requirement of all GFSI standards. Do you know which of your ingredients are the most susceptible to intentional adulteration?
Hazard Question #3 – Which food commodity category has had the most fraud incident reports over the past 20 years?
Hint: If you have access to HorizonScan it takes less than 10 seconds to select a commodity, click the fraud filter and be viewing up to 20 years of food fraud reports. HorizonScan is widely recognized by GFSI auditors as an excellent foundation for performing thorough and compliant vulnerability assessments.
With COVID 19 causing global disruptions to supply chains our key food ingredients are more vulnerable than ever to unscrupulous adulteration and substitution. HorizonScan can help you stay on top of the latest issues and enable you to anticipate them before it's too late. To request updated pricing information or a free demo, just reply now to this email and we'll get back to you shortly with answers to all your questions.
Kind regards,
The HorizonScan Team at FoodChain ID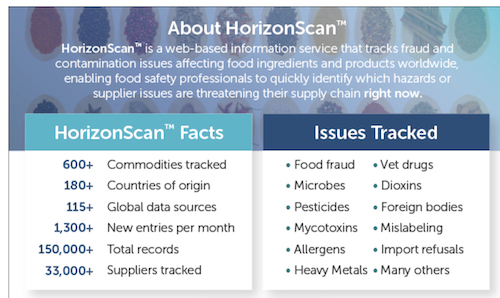 Answer to last week's Quiz – Which country of origin has been cited by global inspection agencies the most times in the past year for adulteration/contamination issues in pepper?
Historically, India has been cited the most times for issues in pepper but in the past year it has been surpassed by Brazil, with 56 new incident reports being added to HorizonScan. The bar chart below shows the top five offenders over the past 12 months.