No matter what your dietary preferences are – Vegan or Paleo on the one hand, or Snickers and Baby Ruth bars on the other – you've gotta love those nuts! Unfortunately, some of us are allergic to them. The presence of undeclared nuts in food products is a commonly reported issue in HorizonScan. But even for those who aren't allergic to nuts, there are still plenty of things to worry about. The most commonly reported risk in both tree and ground nuts is excess levels of Aflatoxins, which can be very dangerous and health-threatening. But there are exceptions to this, and these are the subject of today's quiz.
Hazard Question #4 – What are the most commonly reported hazards in Cashews, Macadamias and Pine Nuts?
Hint: It's the same for all three, but it's not Aflatoxins. And if you had HorizonScan you could know the answers in less than ten seconds each by simply entering each nut in the search tool, clicking a button and then viewing the hazard summary chart that pops up on the results page.
When it comes to analyzing hazards in nuts (or any food group) it's not the case that "one size fits all." Sometimes similar food products are susceptible to unique biological, chemical, or physical threats that need to be considered as part of your raw materials risk assessment. Stop wasting your time trying to identify supply chain hazards with Google searches or clunky government databases. With HorizonScan, all this information is right at your fingertips. It's totally nuts how simple it is!
To request updated pricing information or a free demo, just reply now to this email and we'll get back to you shortly and answer all your questions.
Kind regards,
The HorizonScan Team at FoodChain ID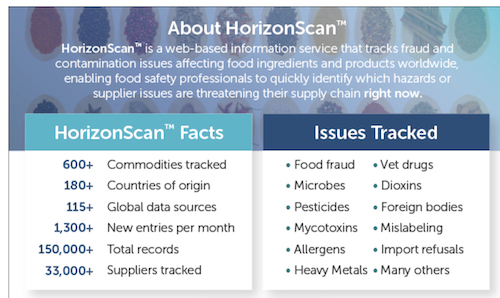 Answer to last week's Quiz – Which food category has had the most fraud incident reports over the past 20 years?
Most fraud is economically motivated so It should come as no surprise that Spices have historically been a favorite target of fraudsters since their high prices can make it quite lucrative to add a cheap filler or substitute a similar but inferior substance. Sometimes the impact of food fraud goes beyond pure economics and becomes a safety issue, too, as was the case in 2015 when ground up peanuts and shells were discovered in ground cumin, triggering a nationwide recall in the USA.