So … a guy walks into a bar and says, "What sort of quality and safety issues do I need to worry about in all the beer I'm about to drink?" Will you have the answer?
Hazard Question #8 – What have been the most common safety/quality issues reported in beer over the past 10 years?
Hint: The answer to the guy's question is NOT "If you drink enough beer you won't have any more worries." But it's super easy to find the correct answers in HorizonScan by whipping out your phone, logging into HorizonScan, doing a search on beer, then entering a 10 year date range in the bar graph summary. You'll have your answer in less than 30 seconds. Sharing the results may be a great way to get that guy to go somewhere else to drink.
HorizonScan also covers wines, spirits and liquors, etc., plus juices, concentrates, soft drinks, mineral water and a host of other beverages, not to mention the peanuts and pretzels on the bar, all the ingredients in the pizza you just ordered, the greens in your salad, the oils and spices in the dressing … you get the idea.
To request updated pricing information or a free demo of HorizonScan, just reply now to this message and we'll get back to you with answers to all your questions.
Kind regards,
The HorizonScan Team at FoodChain ID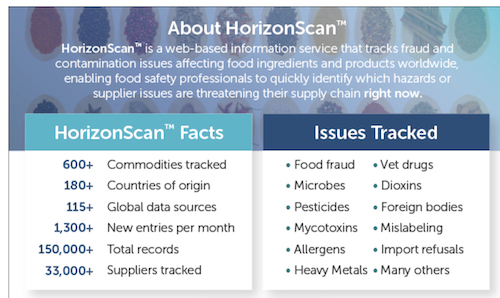 Answer to last week's Quiz – Since 1999 HorizonScan has recorded 194 reports of Salmonella Agona, spread over a wide range of food products. What food group has accounted for 50% of those reports?
For sure, the most alarming occurrences of Salmonella Agona over the past occurred in infant food and formula. But Feedstuff accounted for 97 of the cases reported since 1999, with Poultry meat and products a distant second. The chart below breaks down all 194 reports.