How to build a smarter, safer and more sustainable food supply chain: This was a big topic at the 2018 Food Safety Consortium last month. David McCarthy of IBM Food Trust led a panel of experts from the retail side of the industry in a Q&A session about their biggest challenges in the supply chain, the role of digital and how to achieve a higher level of transparency.
What are the main areas in the supply chain where there's a major need for improvement?
Sean Leighton, vice president of food safety and quality, Cargill: One of the biggest challenges that I see from a supplier perspective is people's assumptions around what is the supply chain—our mindsets, our ability to talk with each other on "what do you mean by 'supply chain'"?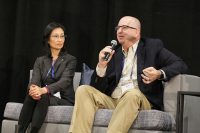 What is food safety's role in the supply chain?
Cindy Jiang, senior director of worldwide food safety, quality and nutrition, McDonald's Corp.: The supply chain is a supply network; it's not linear. The most fundamental thing is to ensure there's no disruption—that the supply chain can provide goods and food product to your customers. When you're looking at the supply chain, [there's a] change between the traditional thinking and the digital demand. How do you provide information in an effective way to your customers?
Howard Popoola, vice president, corporate food technology and regulatory compliance, The Kroger Company: Our supply chain means nothing if we aren't able to deliver safe foods to those consumers in the last mile. Consumers are thinking about the experience that they're going to have with this product. They're not thinking about whether it's safe or not. They're thinking about the meal they're going to make at home with the ingredients that they purchased.
The biggest pain point from the retailer's perspective, when you look at us as being the last in the chain, is in transparency [and] knowing where the products are coming from. Transparency is very big for us. And it takes more than the retailer to open that door of transparency to the consumer.
What are the challenges you're seeing in providing transparency?
Scott Horsfall, CEO, California Leafy Greens Marketing Agreement: I think a big challenge right now and in the future is communication.
Leighton: I think the winners….are going to be the ones that try to achieve consumer trust. The future is no place for the three ring binders…it's digital. Where does the data sit? How can you provide access to them through customers?
How does the digital transformation play into providing transparency?
Popoola: The consumers have already trusted the food industry. There are millions of people walking into retail stores buying product. If the trust isn't there, they wouldn't be doing that. We erode that trust when [a consumer] has a terrible experience with that product.
How are you seeing digital transformation across the supply chain?
Jiang: Digital is one of the top three initiatives of McDonalds; how do we connect with consumers? When serving 70 million customers each day, how can we get to the transparency to understand the supply—digital is one of the answers. From the supply chain standpoint, we're looking at the analytics. We cannot think about only one solution. We have to have different solutions to get the end results.
Popoola: I think the food industry has to see itself as a big ecosystem. If we don't see ourselves as an ecosystem that strives for the one thing,… digital is always going to be a mirage. We have to look at what is digital and understand the fact that [we have large and small companies]. It's not going to be one size fits all.
How long will it take the food industry to get to a completely digital operation?
Jiang: Looking at the total industry digitized—the majority of the work can be done within the next five years, [by] looking at leading companies. But in terms of total digitalization of the ood network in the U.S., I think that will take another 10 to 20 years.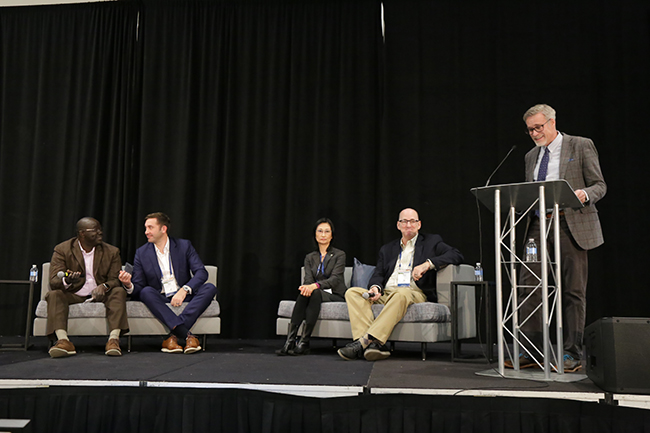 Horsfall: I think there's a challenge with much of the farm community to get to this point. There's also this issue with how you transmit the information. [Horsfall predicts] 10-15 years for the industry.
Leighton: Even a 100% digitized food industry has limited value if the players in the industry can't pull together to deliver meaningful insights from it all.
What are the most promising innovations solving transparency?
Jiang: When looking at innovation, not just technology (technology is an enabler)— the most impactful innovation is human innovation: How can we work together? The GFSI platform started 20 years ago, and now it's so impactful around the globe. [Now we're] looking at how to harmonize food safety standards.
How can we standardize and harmonize… for ingredient suppliers?
How [can we] use the GS1 platform, numbering system to track on where the ingredient is coming from and how that product is made for us—what's in my product?
Think about the human collaboration and how to improve where we're at.
Poopola: I would like to tackle this from a different perspective: When we built technologies (whether off-the-shelf or customized) 20 years ago, we thought [it would be around for] the next 100 years. It's clear today that the technology you have in place might be obsolete in five years. We have to look at the technology we're building and acquiring today: Will it be relevant in five years?
Leighton: It's hard to wrap my head around…deep learning and AI [artificial intelligence]. The insights we can gain from machine learning and predictive analytics. Could AI be human's last invention?
Horsfall: In produce industry, which hasn't always been in the front, I think that's changing. [We're] trying to bring AI and new technology to bear.