How is it possible that we are already near the end of the first quarter of the new year?  Time Marches on (pun intended). STOP Foodborne Illness continues to hear the devastating stories of foodborne illness. I am glad that companies vow to turn things around once things have gone wrong, but I do wish that the same companies had been paying attention long before individuals and families had to experience foodborne illness and live with life-long consequences. I believe that, when conducting in food safety training, sharing stories of those impacted by foodborne illness makes a difference. FSMA implementation is being taught, lectured about, absorbed, integrated, regurgitated and debated. FDA Deputy Commissioner of Foods and Veterinary Medicine Mike Taylor, along with his staff, intimately understand the "why" behind FSMA. Every step of the way, human life has been at the forefront of his prevention-based strategy and plans for new food safety legislation.
As company stock prices fall due to foodborne illness outbreaks, there are heartbreaking stories of families that may never recover emotionally—and this doesn't always make the news. Chris, who was sick during the fall season, recently shared his story.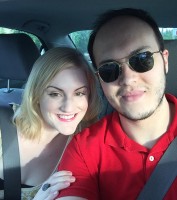 He wrote, "I wish that I could express to another person what this experience has been like for me. The physical symptoms are so much more severe than a typical stomach flu or food poisoning, but the truly difficult part has been the emotional anguish I have felt. This illness has been traumatic for me, and I still struggle with the effects of it. I wish it would never happen to another person and I greatly fear having to go through it again when I am older or less healthy—I truly believed it would kill me. I also wish that others would be able to understand how scary it is to feel your life slipping away through illness like this. Feeling like your body is out of control. For it all to occur from eating what I thought was clean and healthy food is sad for me and I hope that no one ever has to feel or experience what I went through."
Food safety is not a flavor of the month cause or a nice thing in which to aspire. It is critical for the good health of individuals and the good health of business.
Thanks for reading.