Over my 30-year career in the food industry, I have worked for small, corporate and private businesses. Food safety and the prevention of foodborne illness has always been a priority in all kitchens I have worked in and I have seen the challenges facing the industry. I have experienced difficulties in getting all food handlers to adhere to food safety policies, whether it is due to employing a large staff, lack of training, inefficient systems, miscommunication between front of house and back of house, or an inability to find qualified staff.
Awareness of Food Safety Today and Social Media
Industry professionals know that a culture of food safety is critical to preventing foodborne illness; in fact, 95% of chefs cite customers getting sick as their top concern according to a recent study that surveyed nearly 1,000 American Culinary Federation member chefs.1 In a time when more Americans are aware of and educated about food allergies than ever before, it is important for food professionals to pay close attention to recent developments regarding food allergens and sensitivities, and their implications. Customer demands have increased and nearly three-in-five chefs say staying on top of food safety issues and regulations is critically important.
This heightened awareness, coupled with social media, can have a lasting impact on a business. More consumers are relying on online reviews as much as personal recommendations, making it vital that all staff are trained and proficient in food safety practices to protect professional reputations and maintain safe and healthy environments. A bad review can damage a restaurant's reputation and cause both customers and sales to decline. Beyond that, a foodborne illness can have a dramatic impact on insurance premiums, create negative media exposure and potentially lead to lawsuits and legal fees.
Food safety takes a large portion of chefs' time on the job. Actually, 96% of chefs say they spend a fair amount of their day making sure food is being handled and stored correctly in their kitchen, while nearly half find food safety practices to be very time consuming.1 When you're working in a commercial kitchen environment, you need products that are not only compliant with food safety regulations but also save time on the job.
Tackling Food Safety with Color Coding
A few months ago, I trialed a color-coded food storage and prep tools system. It delivers a way to tackle cross-contamination and potential foodborne illness in my kitchen, while providing my staff with a tool that is simple and saves time. The system comes in seven colors, each for use with a specific food type. Each utensil or storage container is matched to the appropriate food for a safer, more sanitary kitchen.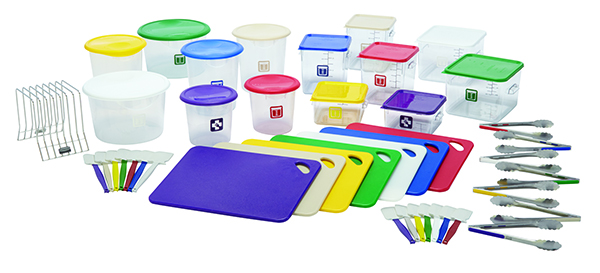 My tips for a safer kitchen:
Color-coding is an easy visual tool on the job. A color-coded system makes it easier for staff to organize and identify stored items. All products in the line are made of quality, food-safe materials that are durable for a commercial setting. When you're looking for a system, make sure the quality can withstand the daily demands of a commercial kitchen.
Taking the time for training is key. A color-coded system helps prevent cross-contamination and the spread of foodborne illness as long as it is used as intended. The system is easy to learn, but only effective if all staff members are properly trained. Take time to train your team on how to use and adhere to the designated color codes.
Make sure you have enough storage containers to meet your operation's needs. You don't want to run out of storage and cause staff to mix and match with other containers when they're in a pinch. Incorporating containers that aren't part of the system and not as easy to identify can lead to simple mistakes. Keeping your containers and cutting boards neatly organized on designated shelf space for each item will make it easier for staff to find and utilize the proper container. While containers are being used for storage, you may want to follow the "first in, first out" rotation when you have multiples of the same item.
Don't forget to consider storage. I like the idea of removing ingredients from their original boxes and storing them in their assigned, color-coded containers because there is no telling what contaminants may be on the outside of the boxes from leakage, dust and/or other elements during warehousing and shipping. Staff should take the same care with storage as they are with the product when it's in use.
Make Your Food Safety Solution Work for You
Overall, I found the color-coded food storage system easy to use and helpful in keeping things organized. When implementing a system, make sure to consider what works best for the size of your operation, whether you need larger or smaller containers based on the amount of production, and storage of product used in your operation. I feel the system I used would be most effective in a small- to mid-sized operation. It could be a challenge to get everyone in larger facilities on board, but with proper training and good communication it could be beneficial to any operation in the reduction and prevention of foodborne illness.
The system is use is designed to be an added benefit and safeguard to a company's existing food safety program, so make sure you're equipping staff with the training and knowledge they need to be successful. The color-coded food storage system can make food storage safe and easy, and it's important to remember that all food handling and safety regulations need to be followed in accordance with your local health department and state guidelines.
All food service industries face the ongoing task of preventing cross contamination and it is our responsibility to train and manage our staff, and hold them accountable to adhering to all local health code and company policies regarding food safety. A single error on the job can jeopardize any safeguards that may be in place putting yourself, other employees and the public at risk. Proper hygiene, labeling, storage and having an HACCP system will not work if all food handling staff from receiving to delivery of the product to customer do not have the proper training and supervision.
References
Coloring in the Lines of Food Safety Product Survey. Rubbermaid Commercial Products and Cohn & Wolfe Branding & Insights Group.