Palmer A. Orlandi, Jr., Ph.D., senior science officer and research director in FDA's Office of Foods and Veterinary Medicine, has been promoted to the rank of Rear Admiral and the U.S. Assistant Surgeon General. Orlandi received the flag-grade promotion during a ceremony held Thursday afternoon in the FDA Wiley Building.
"As the senior ranking officers in the Commissioned Corps, flag officers exemplify the core values for which Commissioned Officers of the U.S. Public Health Service are held in high esteem. Flag officers provide executive-level leadership within the Department and within the Agencies in which they serve. Our flag officers also carry the title of Assistant Surgeon General and, as such, we rely on them to support special initiatives and exhibit the highest caliber of public health leadership." – Commissioned Corps of the U.S. Public Health Service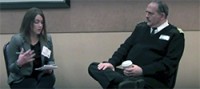 Orlandi joined FDA 20 years ago, beginning his work at a research lab for CFSAN. It was there that he developed rapid and molecular detection methods for Cyclospora and Cryptosporidia and the Microsporidia (emerging food-and waterborne protozoan parasites). In 2008 he became the science coordinator in the Division of Field Science in FDA's Office of Regulatory Affairs (ORA) where he oversaw collaborative analytical methods programs for ORA and the Food Emergency Response Network. In 2012 Orlandi took on the role of senior science advisor to the chief scientist officer at the Office of Food and Veterinary Medicine. He played an active role in integrating science and research efforts across the agency's foods program, and working to align research and lab programs to regulatory field lab needs.
Orlandi received a Commission as an officer in the U.S. Army in 1981. He has been an officer in the Commission Corps of the Public Health Service since 1991.