Last week, hundreds of food safety professionals, members of the FDA and USDA, and leaders in academia, food safety testing and cybersecurity met in Parsippany, New Jersey, for the 2023 Food Safety Consortium.
Keynote speaker Sandra Eskin, Deputy Undersecretary for Food Safety at USDA FSIS, and Erik Mettler, Assistant Commissioner for Partnerships and Policy in the FDA's Office of Regulatory Affairs, opened the Consortium to discuss their agencies' priorities for 2024 and took part in a town hall Q&A with attendees.
In April, the USDA FSIS declared salmonella an adulterant in raw breaded chicken products. The agency is now reviewing comments and finalizing a framework for other poultry products and examining how to substantiate claims, such as "Pasture Raised," "Grass Fed" and "Raised without Antibiotics." Cell-cultured meat is another key focus for FSIS, and it is requiring labeling of "Cell Cultivated" on the packaging of these products.
Mettler discussed the "mass reorganization" of the FDA that is currently underway following the 2022 Reagan Udall report, noting that Jim Jones, the new Deputy Commissioner for Human Foods will have full control of policy and resources of the Human Foods program. A key focus will be risk management prioritization. Expect to see full reorganization in late summer or early fall of 2024.
Reorganization of the FDA's Human Foods program was a hot topic that was also discussed in depth during Modernizing the U.S. Food Safety System with panelists Stephen Ostroff, former FDA commission, Barbara Kowalcyk, faculty at Georgetown University, and Bill Marler, food safety attorney with Marler Clark.
Session Highlights
This year, attendees had the opportunity to take part in full-day pre-conference workshops, including Food Safety Auditor Training with Trish Wester, president of the Association for Food Safety Auditing Professionals, and the Food Safety Culture Design Workshop with Gina Nicholson Kramer, Associate Director of Partnerships, Policy, & Learning at The Ohio State University, and Richard Fleming and Austin Welch of Sage Media.
Sessions during the two-day Consortium covered everything from data analytics to risk mitigation, grassroots food safety culture and recall trends.
Attendees were able to take part in a Panel Discussion with the Producer and Food Safety Experts Behind "Poisoned: The Dirty Truth About Your Food" Documentary with producer Kristin Lazure and featured members of the film, including Dr. Darin Detwiler, CEO of Detwiler Consulting Group, and professor at Northeastern University, attorney Bill Marler, and Brian Ronholm, director of food policy at Consumer Reports.
Steven Gendel spoke on regulatory guidance, thresholds and best practices for Allergen Advisory Labeling, followed by Tracie Sheehan of Mérieux Nutrisciences who presented Protecting Allergic Consumers through Audited and Validated Allergen Control Plans.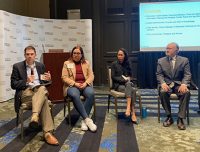 Two sessions highlighted the growing threat of cyber attacks. Attendees gained valuable insights from Mark Wittrock, Assistant Director – Health, Food, and Agriculture Resilience Office of Health Security, U.S. Department of Homeland Security, in Re-Imagining Food Protection as a National Security Issue – DHS Perspective, and Scott Algeier of the Food-Ag ISAC, who led a panel discussion on Food Safety and Cybersecurity.
"We'd like to thank all of our attendees, speakers and sponsors for helping make this year's Food Safety Consortium a success. Through discussion, sharing of knowledge and building industry connections, the food industry will be better prepared to tackle the biggest challenges facing food safety, ensuring a safer and more resilient food supply for consumers," said Rick Biros, founder and program director of the Consortium and publisher of Food Safety Tech. "We look forward to welcoming everyone to next year's program in Washington, DC."
Save the Date: The 2024 Food Safety Consortium will take place October 20-22 in Washington, DC. The call for abstracts is now open.
About the Food Safety Consortium: ​Organized by Food Safety Tech, the Food Safety Consortium Conference, launched in 2012, is an educational and networking event that has food safety, food integrity and food defense as the foundation of its educational content. With a unique focus on science, technology, best practices and compliance, the "Consortium" features critical thinking topics that have been developed for both industry veterans and knowledgeable newcomers.