The old adage coined by Benjamin Franklin nearly three centuries ago rings truer today than ever before: "Time is money." For food plant managers, there are few greater job challenges than ensuring the kind of operational efficiency that fuels productivity and engenders real profitability for the company.
Every element of the manufacturing process—from supplier intake and product storage to processing, packaging, labeling and transporting—must run at peak performance in order to meet productivity expectations. Factor in the responsibilities of equipment maintenance, personnel management, resource allocation and food safety compliance, and you're facing a torrent of barriers to increased plant productivity.
Even so, there are some practical changes you can make in order to meet your goals, and they're not the kind that take months of planning and preparation (translation: more time out of your already busy schedule). The following are six expert recommendations you can roll out this week to increase plant productivity and rectify the inefficiencies that may be hindering your success.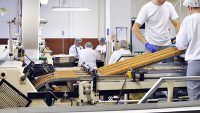 1. Be Proactive
Here's another valuable proverb to live by: "A stitch in time saves nine." By proactively addressing quality control risks within the facility, you're able to thwart more monumental issues down the line, like production halts, recalls and non-compliances. Outcomes like these epitomize inefficiency and often result in severe profitability consequences.
So, what change can you make this week to avert the fallout of a reactive approach? Focus on prevention. It may seem like speed is the ultimate goal, but not if it comes at the price of quality and safety, as oversights in these areas typically lead to damaging efficiency and profitability failures on the back end. Here are some simple steps to emphasize prevention right away:
Revise your HARPC to reflect any changes to date, like new employees or equipment sanitation hazards that have emerged; new ingredients that may pose allergen risks; the team's pinpointing of ineffective control measures; production flow processes that deviate from the documented ones; and evolved compliance mandates or industry standards.
Optimize your documentation process by trading in outdated, manual processes for a more streamlined and reliable digital alternative—one that features automated reporting for extracting hidden insights and trends that can be leveraged to improve your prevention plan.
Designate a team or individual to revamp the training program, ensuring comprehensive education for employees spanning every department and level of the company. Direct them to develop initiatives that foster a culture of food quality and safety, with ongoing efforts to promote awareness and guidance.
2. Embrace the Value of Technology
It's not easy to abandon the tried-and-true processes of yesterday and accept a new reality. This is why some plants struggle to meet the demands of today's highly connected and technologically advanced society. In truth, technology has changed the industry, and the ability to increase productivity in your facility hinges on your willingness to learn the new rules and equip your team with the right tools.
Big data, agricultural tech, management software, augmented reality, digital reporting… the list goes on. These are the types of technology trends that are emerging in the food manufacturing industry and forging a path to immeasurable gains in quality and efficiency. Of course, you won't be able to transform your entire operation in a week, but one thing you can do right away is open your mind to the potential that can be found in embracing technology. Come to an acceptance of the critical role that digitization and automation plays so that you can identify valuable opportunities to take advantage of them.
It's impossible to effectively manage your productivity risks without first identifying them. You must be able to facilitate a historical view of disparities in your floor plan in order to determine the areas of greatest risk and/or loss. What factors within your facility are posing the greatest threats to productivity? Consider:
Are they food quality and safety deterrents, such as undeclared allergens, detected pathogens, residue contamination, lack of proper sanitation policies and enforcement, mismanaged temperature and moisture controls, etc.?
Are they related to equipment failures? Is there machinery that requires updates or replacement?
Are they employee elements, like insufficient staffing, human error, misappropriation of resources, subpar performance or lack of training?
The only way to answer these questions is to look at your floor plan holistically, and utilize historical data to identify potential causes of productivity lapses.
Let's face it, no plant's processes are perfect, and no organization runs a flawless operation. Non-conformances and inefficiencies will always occur. It's the ability to focus on these problems and use the data to improve your process that makes the difference between a strong, productive operation and a weak, futile one. Data collection and analysis that highlight hot spots on your floor plan enable you to communicate effectively with your team and execute process iterations that advance quality, productivity and profitability.
4. Print Testing Labels with Sample Details
If your team is manually writing out labels for samples that are collected for testing, there are a number of efficiency challenges getting in the way of overall plant productivity. First and foremost, filling out testing labels by hand requires much more time from technicians and plant workers than is actually necessary. Over a duration, these minutes become hours, which turn into days, slowly eroding the profitability of your operations. What could you save in productivity losses if your workers no longer had to write out labels?
There's also the issue of often-illegible handwriting and the heightened risk of human error. When the lab receives samples that are difficult to read, incomplete, inaccurately marked or smudged during transit, there are extra steps needed to inquire about and resolve the discrepancies. Otherwise, the lab is left to guess at what they're seeing, and we can all agree there's a hefty price to be paid for inaccuracies in this area.
This is a prime example of how food safety software can increase plant productivity. With the ability to utilize auto-labeling for testing samples, all of these productivity impediments disappear. You could begin saving precious time and closing the gap on errors immediately, just by using a smart software solution that enables you to print testing labels.
5. Automatically Assign Corrective Actions
As non-conformances arise in the production process, corrective action must follow. But even with the best intentions, corrective action goals can fall behind schedule or consume so much time and energy that they curtail operational productivity. Without an automated, streamlined approach, there's likely to be confusion over who is expected to manage a particular action and what they need to do, which precipitates avoidable mistakes and a whole lot of wasted time.
With a food safety management system that allows you to automatically assign next steps to the appropriate individual for resolving a positive test result, there's much to be gained in terms of efficiency. The right people are instantly notified of their corrective action assignments, with direction on how to proceed. This kind of powerful communication reaps big productivity returns. It also maintains a focus on proactive quality control, the benefits of which we've already explored.
6. Use a Food Safety Audit Template
Sometimes it feels like there's no end to the cycle of preparation required for managing the plant's continual food safety audits. On the one hand, you've got government regulators, like the FDA, USDA and CFIA, heightening compliance enforcement and performing regular inspections. On the other, you're subject to client-administered audits intended to verify supplier food quality and safety. Then in between the two, you're tasked with conducting a number of internal audits.
Amid all of this complex data acquisition and reporting, your operations are suffering from the effects of lost time and resources. As each food safety audit approaches, it can be a significant struggle to get everything in order—one that ultimately takes your productivity objectives off course. The key to avoiding this scenario is implementing an organized process, and one of the most effective tools you can use is a standard food safety audit template.
With a comprehensive checklist of categories and requirements, you're able to systematically address each area of food safety responsibility, survey your team, assemble the necessary materials and pull relevant data. From compiling documents, logs and reports to making visual verifications, a template that facilitates the audit preparation process is a significant productivity booster. It helps you assimilate efforts to:
Verify the plant's actions for analysis and control of biological, chemical and physical hazards, from raw material production, procurement and handling to manufacturing, distribution and consumption of finished product
Methodically examine all aspects of the plant's system for maintaining industry, company and government standards of practice for manufacturing, holding and distributing foods fit for human consumption
Review the elements of your supplier verification program to ensure completeness, accuracy and organization, as well as collect proof of your suppliers' quality systems
Compile information that reflects the plant's approach to enforcing an expedient and reliable recall process
There's no reason to allow productivity to falter while handling everyday plant responsibilities. By executing some of these steps within the next few days, you can kick start better efficiency patterns and get your operations moving toward increased productivity. This is the direction in which you should be headed in order to develop greater control throughout the plant and turn time into money.