The new requirements under Section 117 cGMPs of FSMA mandate that a "Qualified Individual" oversee the hazard analysis, preventive control process and Food Safety Plan. The expectation is that a plant operator designates qualified resources who are adequately represented during all food processing and handling at registered sites. In addition, the Qualified Individual stipulation requires that the organization provide resources to maintain the company's GMP program and food safe processing, and to oversee key regulatory activities.
Qualified or Competent Individual under FSMA Hazard Analysis and Risk-Based Preventive Controls
The organization must provide Qualified Individuals in all areas to ensure the food safety of product processing, production and distribution. The key roles under "Qualified Individual" are described under Subpart C Section 117.126. This statute requires that the food safety system and plan requirements must be overseen by Qualified Individuals. This includes development of a Food Safety Plan—prepared, or its preparation overseen, by one or more preventive controls Qualified Individuals. Additionally, the statute, as described in cGMPs, indicates that experience, education, certification and other qualifications are appropriate for companies to determine Qualified Individuals.
Other FSMA requirements under Section 117 include the following (as summarized and aligned for specific cases):
117.160(b) (1) Validate that preventive controls required under 117.135 are adequate to control hazards in the facility's Food Safety System prior to development of the Food Safety Plan by Qualified Individual, or:

117.160 (b) (2) validation of preventive controls within 90 days or a reasonable timeframe after production of applicable food begins by Qualified Individual.
117.160 (c) food not applicable based on factors such as the nature of the hazard (including allergen, sanitation controls, recall plan, supply chain program or determined non-applicable hazards), as determined by Qualified Individual.

117.165 (a) (4) As appropriate to the facility and its role in the Food Safety System, review records that are effective and make decisions about corrective actions by a Qualified Individual.

117. 165 (a) (4) (i) Maintain records of monitoring and corrective actions within seven working days after the records are created by Qualified Individual.

117.170 (c) (2) (ii) Reanalysis by the Qualified Individual every three years for the written justification of the Food Safety Plan exceeding 90 days after production of applicable food.

117.170 (c) (2) (e) Preventive controls Qualified Individual must perform (or oversee) the reanalysis.

117.180 Requirements applicable to a preventive controls Qualified Individual and Qualified Auditor are described in this section with the introduction of the Qualified Auditor-level resource.
117.180 (a) One or more preventive controls Qualified Individuals must do or oversee:

Preparation of the Food Safety Plan
Validation of preventive controls
Written justification for validation that exceeds the first 90 days of production.

117.180 (a) General processes and controls.

Overall sanitation of the plant must be under the supervision of one or more Competent Individuals assigned responsibility for this function.

117.190 Implementation records required for this subpart.

Records that document applicable training for preventive controls Qualified Individual and Auditor.
These requirements under FSMA list the necessity of multiple Qualified Individuals, Qualified Auditors, and Competent Individuals for sanitation. Accordingly, all management and personnel must know, understand and be trained for the food safety aspects of their jobs.
Self-Diagnostic Assessment Tool
The following self-diagnostic assessment tool can help organizations better determine their current state of planning when it comes to determining and deploying the various Qualified Individuals in meeting FSMA. To complete your own planning assessment, review your progress compared to the questions below.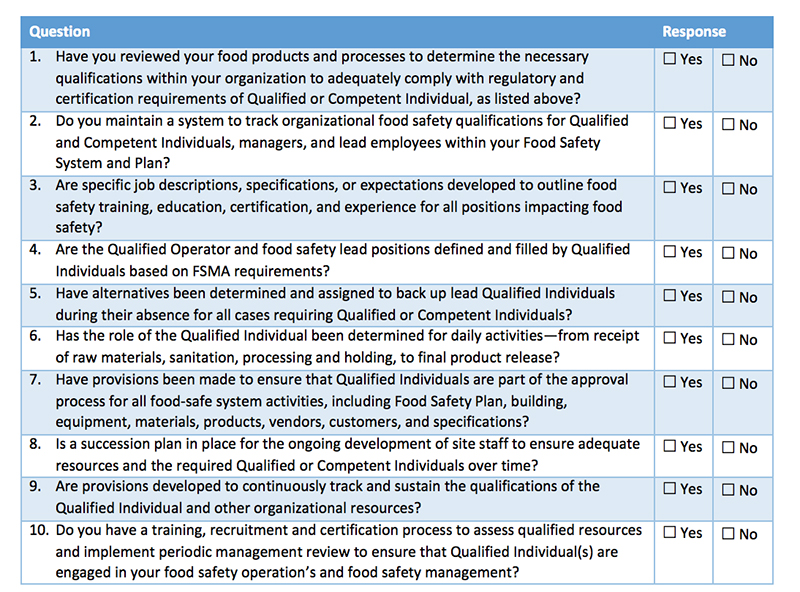 Get Compliance-Ready
Companies must have the appropriate resources to comply with FSMA or face possible violations, fines and penalties under FDA enforcement. The questions in Table I will help companies identify the areas in which they need to focus attention. Kestrel can also help answer questions, provide input on solutions, discuss how to better manage GFSI certification—and change "No" responses into "Yes" responses that promote best practices for FSMA compliance.
Get the checklist to assess your company's readiness level. It's a crucial part of the compliance process.