Increasingly, we turn to technology to simplify tasks in our personal and business lives. Platforms like Facebook and Twitter allow us to connect, shop, advertise and publish with just a few clicks. LinkedIn is where people turn to prospect for new business, publish articles, discuss issues within industry groups, and look for a job. Need a ride? Apps like Uber and Lyft can usually get you where you're going cheaper and more easily than a taxi. Devices like Google Home and Amazon Echo can listen to your voice commands to play music, manage your shopping list, adjust your lights, or tell a joke. And experiments are underway for driverless cars, which could make us the last car-owning generation.
With technology automating and solving so many tasks, how is it possible that food production is still dependent on paper-driven and manual processes?
The current way of doing things in the food and beverage industry is outdated, labor intensive, and—most importantly—error-prone. Under FSMA, companies need to be able to justify their decisions and processes, and of course, document them. It's not only critical for brand protection—it's a regulatory requirement. Ignorance is not bliss. Now, senior management is obligated to demonstrate their commitment to food safety and they risk criminal prosecution if their operations don't measure up. There's too much at risk to keep doing things the same old way. The following are some signs that your quality department is still in the Dark Ages.
1. You're using clipboards.
In defense of clipboards, they were a wonderful invention. They are quite well suited for gathering signatures on petitions to save the whales or signing up for a PTA bake sale. But if you're still using clipboards to log temperatures or document sanitation procedures, then your food safety records are not as current and organized as they could be. Inputting data later is not an effective use of time. Processes like these not only take away from the core competencies of your quality team, but they also make staff spend more time analyzing everything manually, which could lead to costly mistakes or inaccuracies. Tablets and PCs have replaced paper-based logs and other quality recordkeeping. Why make your staff do a task twice? By digitizing these records, you can ensure that your records are up-to-date in real time and reduce the likelihood of errors made during transcription. Trust me, your staff will thank you for rescuing them from extra data entry. Plus, the modern workforce expects digital solutions.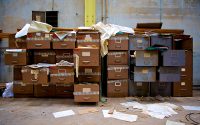 2. You're still using a physical filing cabinet to store food safety documentation.
If you're putting your food safety plan, supplier documents and certificates of authenticity (COAs) in a filing cabinet, you have a transparency problem. Your department isn't the only one that needs access to those critical documents. And if everyone has their own paper copy, then you are going to have problems with version control. Solve your transparency and version control problems by keeping critical documents in the cloud where the data can be extracted, analyzed and shared internally and externally across your supply chain.
3. Three-ring binders are for middle school, not food safety.
If your idea of ensuring compliance involves keeping COAs in a three-ring binder, you probably still have a flip phone, too. Seriously, 1980 called and they want their Trapper Keeper back. Whether your documents are in filing cabinets or binders, you still don't have the transparency you need to efficiently share that information with your peers and other departments. Plus, your audits are sure to drag on longer than necessary if you are doing audits with stacks of three-ring binder instead of using an online platform where you can show the auditor any documentation they need with just a few clicks of a mouse.
4. Your suppliers send critical food safety documents to you via e-mail.
Email is a great way to communicate. It's just not the best way to gather and manage supplier documents. Admit it; we all get behind on email, and sometimes things slip through the cracks. What happens if an out-of-spec allergen declaration gets buried under the 586 emails you receive each day? I can tell you, it's certainly not good. The alternative is allowing your suppliers to upload those documents into a platform, so they are immediately available to you and anyone else in the company that you've given access to the system. Leveraging a platform, you also have access to a dashboard that can quickly show you which suppliers are in compliance and which ones have issues that need to be addressed. And if you have incoming certificates of authenticity (COAs), you can sit back and rely on software to read those documents for you and spot anything that doesn't match your specifications or purchase order details. Isn't it time that you not only collected supplier documents, but really use that data within the documents to better manage your incoming material to ensure food safety and quality?
5. You rely on file sharing to store your food safety and quality documentation.
SharePoint and other file sharing systems may look more modern than the paper alternative, but they weren't designed specifically for vendor management or supply chain transparency. They can file and retrieve, but it's not automated document management. Ask yourself how long do you or fellow employees spend searching for requested documents? Perhaps you need certain documentation for your GFSI/FDA audit, but different pieces of information are stored in various locations, either in a shared drive like SharePoint or a custom vendor portal. Every minute counts when it comes to document retrieval. These systems are often a little more than an electronic filing cabinet. They can store the information electronically, but unless it's gathering, analyzing, validating and sharing that data across all departments, you still don't have an automated system.
6. Spreadsheets are the main source of tracking your data.
While quality managers at competing companies are investing in the latest technology, other food companies are still inputting supplier lists and data in spreadsheets. Often, managers are reluctant to move their data to the cloud, opting instead to stick with what they know by using a spreadsheet that lacks a comprehensive system to track supplier performance in real time. This is a major disadvantage when different departments need one source of the truth about supplier performance and trend data about incoming material. Not only are spreadsheets hard to share and keep up-to-date, but the majority of them also contain errors.
A report by Ray Panko, a professor of IT management at the University of Hawaii, found that 88% of spreadsheets contained errors.
Coopers & Lybrand found that 91% of spreadsheets with 150 rows or more produced results that were off by more than 5%.
In a sample of 22 spreadsheets, KPMG found that 91% contained serious errors.
If your executives think automated supplier, compliance and quality systems are a "nice-to-have," chances are you are still operating in the Dark Ages. This final advice is true no matter what software your business is thinking of implementing. Whatever the aims of the system, you must choose a long-term partner. Make sure your vendor can solve these six problems and meet the needs of your business now and in the future.