The Food Safety Tech's Hazards Conference + CFI Think Tank "Industry & Academia Advancing Food Safety Practices, Technology and Research" took place April 3-5 in Columbus, Ohio. The event offered two days of practical education on the detection, mitigation, control and regulation of key food hazards, followed by discussion geared toward identifying gaps for research and innovation.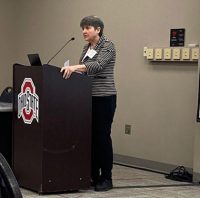 Sandra Eskin, Deputy Under Secretary for Food Safety, USDA FSIS, opened the program to discuss the agency's proposed Salmonella in poultry framework. She highlighted the need for a more comprehensive approach that includes incentives to bring down the Salmonella load in birds entering the slaughterhouse, enhanced monitoring of safety measures within the facility, and enforceable product standards for raw poultry products.
Day one continued with a focus on Salmonella and Listeria. Barb Masters, VP of Regulatory Policy at Tyson Foods presented "Salmonella: What We've Learned and Remaining Gaps in Detection and Mitigation." Masters highlighted key gaps in Salmonella detection, mitigation and research including:
Correlating what comes from the farm to what is entering a plant
Potential benefits of quantification testing
A better understanding of products that have the highest levels of Salmonella
Identification of virulence factors of different serotypes
The need for rapid testing methods that can be used at the plant level
Sanja Ilic, Ph.D., presented findings on the risks and most effective mitigation methods for listeria in hydroponic systems, followed by a session from Stacy Vernon, Ph.D., on recent listeria outbreaks in RTE meats and ice cream.
Attorneys Bill Marler, founder of Marler Clark, and Shawn Stevens of the Food Industry Counsel opened day two with an overview of the legal and financial risks of food safety hazards. The program continued with a focus on detection and mitigation of pathogens and biofilms.
Session Highlights
Application of Ozone for Decontamination of Fresh Produce with Al Baroudi, Ph.D., VP of Quality Assurance and Food Safety, The Cheesecake Factory, and Ahmed Yousef, Ph.D., Professor and Researcher with the Department of Food Science & Technology, OSU
Estimating Mycotoxin Exposure in Guatemala and Nigeria with Ariel Garsow, Ph.D., Food Safety Technical Specialist at the Global Alliance for Improved Nutrition (GAIN)
Mitigating the Risks of Salmonella and Listeria in Your Facility & Products with Sanjay Gummalla of the American Frozen Food Institute, and Rashmi Rani, Senior Manager of Food Safety and Quality Assurance, Schwan's Foods
How to Use Whole Genome Sequencing in Operations To Improve Food Safety and Root Cause Analysis with Fabien Robert, Head of Zone AMS, Nestlé
Biofilm Prevention and Control Practices with Charles Giambrone, Food Safety Manager, Rochester Midland
On April 5, attendees joined the Ohio State University Center for Foodborne Illness Research and Prevention (CFI), founded and directed by Barbara Kowalcyk, for its annual "Think Tank." The program featured student research presentations and an "Einstein Lunch" that brought members of industry together with graduate students and OSU researchers to identify gaps in research in the areas of pathogen detection and mitigation, handwashing and mycotoxins.
"We're hoping this is the first of future collaborations with CFI and Food Safety Tech, where we have industry and academia presenting together," said Rick Biros, founder of Food Safety Tech, the Food Safety Consortium and the Food Safety Tech Hazards Conference series. "This is something I feel both academia and industry benefit from, and I look forward to working with Barbara and CFI in the future."
"I learned a lot myself, and it was great to see this program come together," said Kowalcyk. "I want to thank the presenters, attendees and all the people who worked behind the scenes to make this event happen."
Scenes from Food Safety Hazards Conference + CFI Thinktank