The FSMA Intentional Adulteration rule is focused on preventing intentional adulteration from acts intended to cause wide-scale food safety impacts to public health, including acts of terrorism, economic adulteration and disgruntled employees. Such acts, while unlikely, could cause illness, death and economic disruption of the food supply absent mitigation strategies. This rule requires mitigation strategies to reduce risk versus specific food hazards.
How much do you know about the Intentional Adulteration Rule? Test your smarts by taking the FSMA IQ Test here The Intentional Adulteration rule is established to address large companies with products that reach many people, while exempting smaller companies. This rule requires covered facilities to conduct a "vulnerability assessment" to identify vulnerabilities and actions to take for each type of food manufactured, processed, packed or held at the food facility. For each point, step, or procedure in the facility's process, these vulnerabilities must be identified and evaluated. Covered facilities must also prepare and implement a Food Defense Plan. This written plan must identify the vulnerabilities and actionable process steps; mitigation strategies; and procedures for food defense monitoring, corrective actions and verification. A reanalysis is required every three years or when certain criteria are met, including mitigation strategies that are determined to be improperly implemented.
Self-Diagnostic Assessment Tool
The following self-diagnostic assessment tool can help organizations better determine their current state of planning when it comes to implementing and managing FSMA Intentional Adulteration requirements. To complete your own assessment, review and compare your programs to the questions in Table I.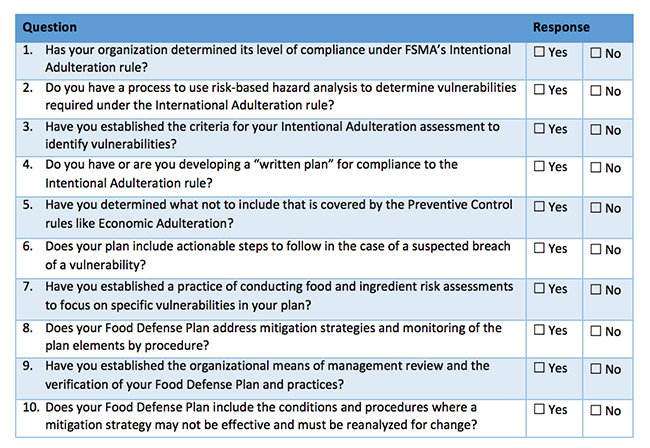 Get Compliance-Ready
Companies must have the appropriate systems in place to comply with FSMA Intentional Adulteration requirements or face possible willful non-conformance, which can include fines and criminal penalties under FDA enforcement. The questions in Table I will help companies identify areas to consider regarding their program. Kestrel can also help answer questions, provide input on solutions, discuss how to better manage all your food safety requirements, and change "No" responses into "Yes" responses that promote best practices for FSMA and food safety compliance.