What if it was possible for importers, or the customs broker that imports food into the U.S. on behalf of shippers, to stop salmonella-tainted food before it arrives in the hands of a consumer? While there are assorted systems in place to prevent contamination, often times, grocery stores and other businesses are unable to track the supply chain of foreign food importers, leaving customers blind to the origin of a product.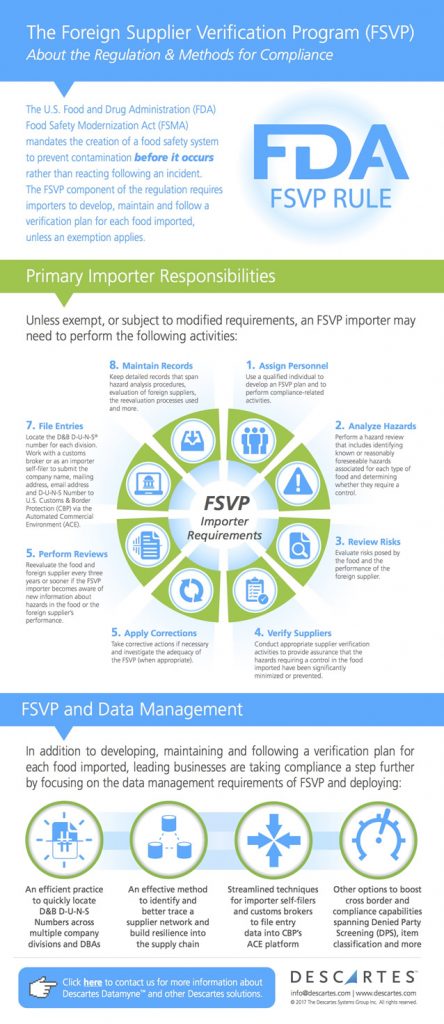 The U.S. Food & Drug Administration (FDA) is working to address this issue with the Foreign Supplier Verification Program (FSVP). The new program makes importers responsible for better tracking hazards, identifying their suppliers and ensuring that their food is compliant with processes that meet the FDA's standards for preventive controls and safety.
On the surface, this visibility seems like a great benefit to both consumers and businesses. But what will it mean for importers as they try and keep up with reporting requests and new regulations?
To prepare businesses for the continuing list of FSVP regulations that must be implemented by 2019, here are four ways in which technology will ease the burden and make the food industry's supply chain even stronger.
1. Gain a holistic view of the supply chain
For navigating FSVP specifically, technology provides food importers with an efficient way to identify and better trace a supplier network, as well as and a quick and easy way to locate D&B D-U-N-S® Numbers*. For importer self-filers and customs brokers, similar solutions enable them to streamline techniques to transmit data to U.S. Customs & Border Protection (CBP) in the Automated Commercial Environment (ACE) as their goods move across borders, as well as to store details, such as D&B D-U-N-S Numbers, Harmonized System (HS) codes and more.
Ultimately, food importers and customs brokers that enlist the expertise of one technology provider can better prepare for FSVP compliance. While piecing together a technology solution using multiple logistics technology providers may work in the short term, a forward-looking, compliance-centric approach that aligns with future regulations must be adopted – one that gives a holistic view of the supply chain via one service provider.
2. Identify and better trace the supplier network
Supplier verification is an additional area of FSVP whereby suppliers must undergo periodic review and approval, and must be identified in order to perform an effective supplier hazard analysis and evaluation. Accurately identifying suppliers is a highly complex task due to intricate supply chains, compound food formulations and the number of SKUs in a product line. Plus, a supplier ecosystem evolves over time for many reasons, such as changing cost and consumer demand. Simply put, managing a complex supplier network can be a drain on resources and costly. Luckily, technology can help.
Logistics solutions that feature periodic updates that adapt to changing supply chains can help food importers better target suppliers to ensure regulations are followed. It can also help focus on suppliers with higher shipment volumes to optimize data management and prioritize compliance responsibilities.
In the event a food code is subject to FSVP, customs brokers are required to input the importers' name, mailing address, email address and D-U-N-S Number. Because the FDA's consumer protection function is dependent on the entry process, brokers are aware of the added scrutiny shipments subjected to FSVP-related information will be under, especially if any of the above information is noted as Unknown (UKN). Logistics technology can help automate this process and ease custom entries, booking, security filings and more.
3. Streamline techniques to transmit important data
Transmitting data to the CBP as goods move across borders can be challenging in its own right. Basic customs issues include import/entry process, tariff classification, valuation and duty assessment.
Innovative technology solutions can help businesses go beyond the bare minimum to improve the speed and accuracy of submitting entry and Partner Government Agency (PGA) data to CBP. Users can receive and react to responses and customs status messages by exception. Proactive alert functionality can notify users of actionable items including rejections, intensive exams, requests for electronic invoices, Temporary Importation Bonds (TIB) expiration notices and more. On-demand solutions also enable brokers and forwarders the ability to run complex international operations more efficiently.
4. Dedicate D&B D-U-N-S numbers for imported food product
The D&B D-U-N-S Number was selected by the FDA as the recording system to identify importers by a common reference system. The FSVP regulation indicates that a D-U-N-S Number must be provided by an importer for each line entry of food product imported into the U.S.
Today's complex food industry means importers often work with an extensive ecosystem of subsidiaries, affiliates and Doing Business As (DBA) divisions. To comply with FSVP, technology can help quickly locate the D&B unique identifier for each member of the network, and streamline the complicated process of managing each line entry of food product offered for importation into the U.S.
A tech-driven pathway forward
There is no doubt that the new FSVP regulation is complex. U.S. food importers are now responsible for ensuring compliance in an effort to improve the safety of food entering the U.S. This will require food importers to fully understand the regulation on a practical level and react accordingly, using technology to its fullest.
Leading businesses should consider the FSVP regulation as an opportunity to look forward and prepare. With the right logistics technology and processes in place, organizations can improve their readiness to enable compliance, improve data management and execute a holistic regulatory strategy to meet the new stringent requirements.
* D&B D-U-N-S Numbers are proprietary to D&B, are licensed from D&B and are for internal use only. 
D-U-N-S is a registered trademark of D&B.