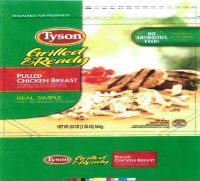 Tyson Foods, Inc. is recalling 8,492,832 pounds of ready-to-eat (RTE) chicken products over concerns that the product may be adulterated with Listeria monocytogenes. The Class I recall affects frozen, fully cooked chicken products that were produced between December 26, 2020 and April 13, 2021, and shipped nationwide to retailers and facilities that include hospitals, nursing homes, restaurants, schools and Department of Defense locations. The recalled products bear establishment number "EST. P-7089" on the product bag or inside the USDA mark of inspection.
Thus far three people have been sickened with Listeriosis, and one death has been reported, according to the CDC investigation.
The FSIS website lists all products affected by the recall—which includes diced chicken, frozen, fully cooked chicken strips, diced chicken, chicken used for fajitas chicken wing sections, and pizza with fully cooked chicken.
The CDC is advising that businesses do not serve or sell recalled products, and that any refrigerators, containers or surfaces that may have touched the recalled products be thoroughly cleaned.